Project Managers Are 'Glue' Holding Learning Projects Together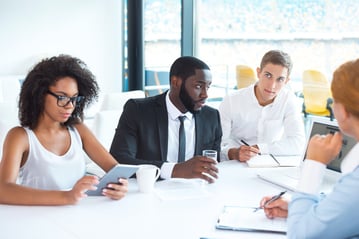 To achieve business stakeholder satisfaction with a completed learning & development initiative, learning project managers must aim for success in three key areas. The first two are rather obvious: complete the project on time and on budget, and successfully fulfill the end business objectives. But the third item can be a little trickier—deftly manage the stakeholder relationship.
In the context of L&D project management, effective stakeholder management means adequately involving them in development of the project without distracting them from their "day jobs." As Leonard Cochran, manager of learning programs for Hilton University, puts it: "My intent is to make them feel as if I'm an extension of their team who is solely focused on their project so they can be at ease."
To that point, it's important to identify and communicate project risks early. This will help to avoid potential scope issues and identify alternative adjustments to minimize negative impact, all of which contributes to establishing the learning organization as a valued partner to the business.
Indeed, Cochran calls project managers the "glue" that holds learning & development initiatives together. In Cochran's view, one of the more underappreciated aspects of the L&D project manager role is educating business stakeholders on the process of developing learning strategy and deliverables, and the importance of that process. Hewing to process is crucial to efficiency and effectiveness of the entire learning project, particularly as it pertains to adherence to timeline and budget. When they're educated on L&D processes, business stakeholders tend to better understand the role of learning PMs and the value they bring to the table.
Learning project managers often find themselves in the role of advocate—not just on behalf of the business, but the vendor partners, too. "I do my best to ensure the vendor has the proper information that they need to have a successful project," Cochran says. "I also advocate on behalf of the business in an effort to prevent breakdowns in processes or procedures." Likewise, it's sometimes necessary to function as a liaison between the business and vendors to ensure an even exchange of communication and ideas throughout the life of the project.
Tips for Managing Project Relationships
When managing external vendors as part of the learning PM process, be as candid and as transparent as possible. It builds a level of trust and strengthens the overall partnership. Take pains to avoid creating an "us vs. them" dynamic, instead emphasizing a collaborative relationship. Being a project manager is sometimes like being a mediator, Cochran says. "There are times the vendors and the internal clients speak two different languages. It's important to help translate the communication to both parties to ensure clarity of understanding."
As for internal stakeholders, they ultimately want to feel like the project manager understands their needs, the needs of the business, and the needs of the learning audience. Cochran likens the experience of working with a new stakeholder to attending a school dance as a teenager. "Everyone has expectations, but they may not be based on facts. 'Will my dance partner allow me to lead, or do they expect me to follow them?' It's the project manager's role to gently guide the partnership. If all goes well, we'll dance again, and the next dance will be less awkward and more enjoyable."
Building solid relationships with business stakeholders and subject matter experts is an important yet easily overlooked skill for PMs. "Having a solid relationship helps to build trust and allows you to demonstrate your commitment to the project, and that is definitely in the stakeholder's best interest," Cochran says. "Having that credibility allows the project manager to have a better place at the table when project decisions are being made."
Among the biggest challenges to delivering a learning project that successfully meets business objectives is around performance consulting. Performance consulting means collaborating with business stakeholders to truly understand the ultimate desired performance needed to achieve business goals. Rather than reflexively focusing on training outcomes and skills gaps, performance consulting takes into consideration everything that can impact performance, including work environment, tools, support systems, even external factors. The entire L&D project team must engage in performance consulting, but it's imperative for the project manager to educate the stakeholders on its collaborative nature and see it through the design phase.
Finally, make sure to keep the lines of communication open with the members of the learning team. Regardless of a project's size or scope, the instructional designers, learning strategist, quality assurance resources, technical developers, editors, and others can often identify ways to improve the development process as well as the end product.
---
Renie McClay is a learning project manager with Caveo Learning. Before joining Caveo in 2014, McClay previously held a variety of learning leader roles over the last 20 years for companies including Kraft, Gerber, and Pactiv Corp. She has a master's in global talent development from DePaul University and is a Certified Professional in Learning & Performance (CPLP). She is an adjunct professor at Concordia University and Roosevelt University, and is a renowned expert on global training and sales training. McClay has authored or contributed to 10 books, including The Essential Guide to Training Global Audiences and Fortify Your Sales Force.
Topics: Instructional Design