Learning Project Management: 5 Tips for Effective L&D PM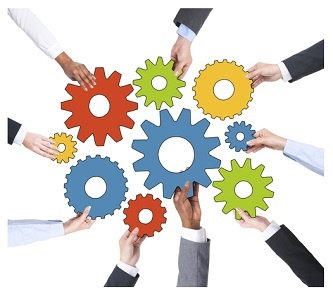 A learning initiative may be perfectly conceived—aligned with business objectives, compellingly creative, with obvious ROI potential—but that all goes out the window without effective learning project management to see it through to completion.
Learning professionals tasked with managing projects must be deft at facilitating collaboration among stakeholders, subject matter experts, and content developers, in order to ensure that instructional design, development, and implementation of training projects meet objectives and are completed on time and on budget.
Here are five project management tips tailored for learning & development professionals.
Make The Project Team Your Project Team
As a project manager on an L&D project, how do you view your team? Do you see them as assets or as liabilities? Do you make an effort to include your team members as much as possible, or do you keep them on the periphery and only update them on a need-to-know basis? Not sure? Think about this: Are your L&D project team members more likely to reach out to you with suggestions, or are they more likely to come to you with requests for clarification? If it's the latter, you might not be doing yourself or your stakeholders any favors.
Regardless of the size or scope of your learning project, one of your most important assets is your team. Your instructional designer, learning strategist, quality assurance resources, technical developers, editors, SMEs, and others can often identify ways to improve the development process as well as the actual learning deliverables. They have the potential to make your projects either shine or stumble. Let all team members know early on how you will assign and track tasks, communicate and update stakeholders, and identify and resolve issues and risks. Impactful team synergy starts with how the project manager views the team.
Keep Your Eye on the Goal, Not Just the Process
When managing learning projects, aim to apply the right amount of rigor—not too much and not too little. Just as you wouldn't bring in a backhoe to dig a 12-inch hole in the ground, not all L&D projects require fancy Gantt charts or complicated dashboards. On the other hand, if you wait until issues begin to pile up before deciding to integrate a risk-and-issues log or add a meeting to your project's toolkit, your design or development phase could run into trouble.
Likewise, take care to select the right PM processes and tools for your specific project's needs. You'll want to take a balanced approach—back into your project tool and process selection by assessing during the planning stages what is needed to meet the project's goals and the team's performance needs. If you function within a larger team or organization that uses standard tools, it may be wise to stop and consider whether or not every spreadsheet or tab in the system really adds value to your project.
Be a Leader, Not a Caretaker
See yourself as a leader and coach, not just the caretaker of the learning project plan or the person who distributes meeting notes. Learning project managers too often leave the responsibility of leading their learning initiative to the VP of learning or the project sponsor. Consider the project from the perspective of your supporting cast.
Have 15-minute one-on-ones with your instructional designers to find out if they need anything. Observe how they interact with SMEs to see if you need to coach them on how to be more effective. If someone on the team is underperforming, take time to find out why and work with them to get things on track. Always be on the lookout for ways to improve the effectiveness of the team. Ask your technical developers what's most important for them to know in order to perform their best for the project, and then provide it. Do this as often as is needed and feasible. Not only will you likely avoid unnecessary issues, but you'll also help others in their professional growth.
Don't Let 'Scope' Become a Negative Word
Few things can derail a project faster than scope creep. Not only does scope creep add risk to your project budget and schedule, but more importantly it can jeopardize the business impact and effectiveness of the learning initiative.
Consider this scenario: the project statement of work clearly states eLearning is to be no more than 45 minutes, but a third of the way into development, the SMEs increased the amount of material to be covered. You're now pushing over an hour of learner seat time. What can you do to avoid this type of situation? Talk about scope from the beginning of the project. Talk about it openly. Talk about it often.
One of the most ineffective ways to deal with scope creep is to not bring it up until things are at a breaking point and a stakeholder feels like they have been given a bad surprise. Integrate the discussion of scope into your weekly project meeting agenda. Talk about how well it's going. Talk about when it appears to be at risk. In this way, you can lessen or altogether avoid the tension that can result from having to communicate that training will be delivered a few days later or at a higher cost.
Take Ownership of the Project Team's Performance
Make sure that project contributors understand the critical role they play in the project's overall success. You might be tempted to think that the QA person doesn't need to see your whole project plan (and maybe they don't), but is it really in your project's best interest to drop a storyboard on them at the last minute for review? Have you ever thought about giving your QA team specific info about the project's background, or letting them know why the project is critical or differs from others? This sort of collaborative communication could spark that extra little effort that separates "good" from "great," ensuring the design, development, and implementation of your training project meets objectives and is completed on time and within budget.
Topics: Learning Strategy