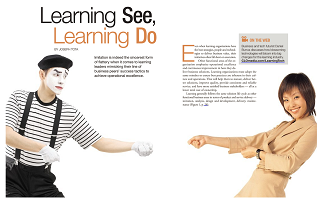 You've put together an expert team of learning professionals. Your learning strategy is comprehensive and sound. You've invested in cutting-edge learning technology that meets your organization's needs. And yet, your training initiatives still fall short of expectations.
It may be time to look at whether your learning organization is maximizing its operational excellence process.
In the August 2015 issue of Chief Learning Officer magazine, Caveo Learning Strategic Learning Partner Joseph Tota explains how learning leaders need to adopt a business-centric operational excellence mindset if they want to deliver high-quality learning solutions that have real business value.
In the article, Joe Tota details how Caveo helped Wawa University, the corporate education organization of retail chain Wawa Inc., to implement an end-to-end operational excellence process to deliver consistent human performance outcomes. "By having a documented and repeatable process for our core functions, our teams can continuously improve our operations by identifying areas where we can optimize," said Stefanie Sharpless, manager of Wawa University. "In most cases, we can pinpoint an area of the process where a breakdown occurs and fix it."
Joe Tota identifies five areas in particular that learning leaders should focus on to realize breakthrough improvement:
Training project intake
Training deliverables review and approval
Maintenance requests and planning
Methodology, toolkits, and templates
For more on how learning organizations can use operational excellence processes to maximize performance improvement, read "Learning See, Learning Do," in the August 2015 issue of CLO.