Conduct Audience Analysis for Global Learning Success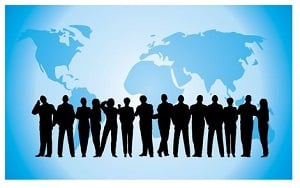 Conducting an audience analysis is an important step for any learning initiative, but it's especially critical in the context of cross-cultural learning. Even the best-designed curriculum can be derailed for failure to understand the learning audience.
By knowing who the learning audience is and what business objectives the learning initiative aims to address, we can better prepare their instruction. For a domestic learning audience, that's usually enough... but for a global audience, we need to delve into cultural differences and preferences in order to make the learning solutions truly relevant and to avoid unforeseen hiccups that can doom the entire effort.
Preparations for a global learning initiative should include hitting the various audience analysis points you would for a typical domestic training program, but then taking it far deeper. There are two main components to any audience analysis: a demographic breakdown, and an understanding of their expectations and learning preferences. Let's examine how to apply the audience analysis process to global learners.
Demographic Breakdown of Learners
First, we need to conduct a standard demographic analysis for the target audience. This should be done as part of the initial learning strategy plan and helps inform both the development of the training deliverable and the actual training delivery. This demographic analysis should address:
Number of participants
Their job roles
Their typical education background
Their relevant interests
Their general skill levels
Whether resistance to training is likely, and how to overcome it
What business challenges the training program is intended to address
Whether the training program is voluntary or required
What participants already know about the topic
Management's role in relation to the training solutions
It's also important to consider the learning preferences and sensibilities of participants in a training setting. For instance, are the participants comfortable with role-playing exercises? Will they balk at game-style icebreakers? What works for an audience of Millennial workers might be a disaster with a room full of senior managers, so adjust accordingly. (For that matter, it's smart to have alternatives built into the curriculum design, in case you need to adjust the training program on the fly.)
Deeper Learner Analysis for a Global Audience
There are four major points to consider in an audience analysis of global learners that may not be as critical for domestic training initiatives: language skills, timeliness, local culture, and learning technology.
Language Skills
Confirming that the target audience speaks English is an obvious step when preparing global training, but it's not as simple as merely asking your local contact the yes or no question. Ask follow-up questions to get a better handle on just how fluent they are. Find out if a fluent participant will be present at the classroom training event, and request their assistance as an informal translator.
Reading, writing, listening, and speaking a second language are different skills, and so you shouldn't presume that all participants can do all four things well. That means you may need to revamp your training deliverables and lesson plan to use less complex language, and enhance handouts and PowerPoint decks with extra context and content. Where you might otherwise use short bulleted text, write out multiple sentences. Make sure written training materials contain all relevant information, including items that would otherwise be exclusively verbalized. Provide handouts in advance, and encourage learners to read through and ask questions. In short, give them every opportunity to understand what you mean to say.
Timeliness
The training facilitator needs to be on time—that's a given. However, some countries and cultures are event-focused, rather than time-focused. It's a good idea to know what to anticipate as far as audiences arriving to class and their expectations for breaks, both for curriculum planning and for facilitating the classroom training.
German culture is famously structured and punctual, but many places around the world are rather less strict in their adherance to the hands of the clock. Talk to your local contact about local mores around time, and adjust your agenda and schedule accordingly. Likewise, while a quick working lunch may be acceptable in some cultures, you may find that a lunch break of anything less than 90 minutes is unreasonable someplace else.
On the upside, in those cultures where timeliness is less of a critical concern, participants may be willing to stay later in the evening to make up the difference.
Local Culture
Read up on local culture in advance of the training session so you can connect in a meaningful way with participants. Simply being able to hold conversations about everyday topics—the economy, politics, pop culture, even the weather—can go a long way toward personally engaging training participants. Similarly, learn some basic phrases in the native language. Also, be open to learning from the learners. Inquire (in a respectful way!) about local customs that you find interesting. Have them teach you some colloquialisms in the local language. Ask them to recommend some music to listen to or a regional food to try. The learners will appreciate these overtures, and you'll be far likelier to win their participation and attention.
There are practical reasons to know about the local culture and geography, as well. For instance: Will rain make the roads impassable and force you to reschedule? Is there a regional holiday that you should be aware of? Should you avoid discussing certain topics to avoid offending participants' sensibilities? A little research ahead of time will help you avoid a faux pas, or worse. Consider consulting translation and localization services when developing training deliverables for a global audience.
Technology
You should check on technological issues for domestic training projects, too, confirming that the facility has the necessary equipment and connecting with the onsite expert in case of any technical difficulties. In an overseas training, though, tech concerns can be considerably more complex.
Is there a high probability of intermittent or extended power outages? Do you need to prepare for voltage surges? What about the method of file exchange—in some countries, viruses are so commonplace that even exchanging flash drives between machines is a terrible idea.
Also, don't make assumptions about the technical competency level of the participants; it could be just as likely that they can write complex code as it is that they can't type. Over- or underestimating the audience's technical skills could throw a major wrench into your learning plan, so ask specific questions of your local contact well in advance.
Be Adaptable and Prepared
Ultimately, basic adult learning principles still apply, whether the curriculum design and training facilitation is for a domestic audience or a global one. Asking good questions, preparing well in advance, and being adaptable to change are important qualities to bring to global training projects.
Topics: Global Learning, Training and Facilitation