4 Keys to Optimizing Learning Organization Structure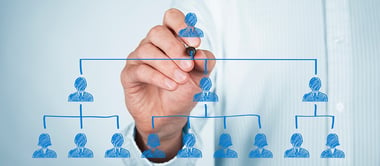 Optimizing the organizational structure is one way for learning leaders to substantially impact the business value they create for their organizations. Optimal organizational structures can improve business alignment and targeted execution on business goals and priorities, and can reduce total cost of ownership for the L&D function.
Learning & development ultimately exists to deliver business value to the business, yet too many L&D organizations have difficulty meeting that objective. Their credibility is suspect because tangible business value is not being delivered, and the trend is for learning leaders to be replaced by business leaders who deeply understand the business and can "learn" how be a learning leader.
Only about 10–15% of companies possess well developed learning and development programs that are properly aligned with strategy and outcomes, according to Bersin by Deloitte research. Bersin's research suggests that learning leaders have an opportunity transform their organizations into centers of excellence within their companies by consistently and deliberately delivering measurable business value.
Before we look at how to optimize an L&D org structure, let's first define its needed components.
Components of an Optimized Organizational Structure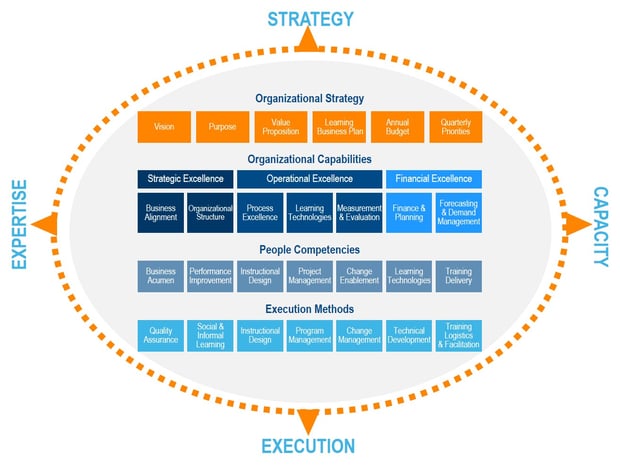 The optimal organizational structure includes not just the organizational chart itself, but also the links between business strategy, business goals, and execution, all of which enable L&D organizations to deliver consistent business outcomes. This critical linkage is often broken when organizational learning strategy is inconsistently formed or lacking, resulting in an inability to execute, or worse—executing on the misaligned priorities. Linking strategy to execution requires expertise and capacity, and learning leaders must be able to tap into expertise when required from their business or external sources. Added capacity is needed as business initiatives demand additional resources from the L&D organization.

There are four key levels within an L&D organization that must be in alignment and optimized in order to make the critical linkage between business strategy and outcomes:
Organizational strategy—This refers to alignment of L&D function to the business strategy and goals. The L&D organizational strategy addresses unique needs of stakeholder groups while having a vision, purpose, value proposition, learning business plan, annual budget, and quarterly priorities.
Organizational capabilities—High-performing L&D organizations optimize their L&D capabilities around three pillars of success: strategic, financial, and operational excellence. Within those pillars are seven defined capabilities: business alignment, organizational structure, process excellence, learning technologies, measurement and evaluation, finance and planning, and forecasting and demand management.
People competencies—L&D teams require individuals with both general and specialized competencies, including: business acumen, performance improvement, instructional design, project management, change enablement, learning technologies, and training facilitation.
Execution methods—Execution methods are how the work gets done in the organization. Methodologies have to be clearly defined and optimized over time for consistent outcomes. Execution methods include how an organization delivers quality assurance, social and informal learning, instructional design, program management, change management, technical development, and training delivery and logistics.
Optimizing Organizational Structure Capability
Optimal organizational structure capability lets you better align your L&D organization to the business. The three most common organizational structures are centralized, decentralized, and federated.
Centralized Structure
This structure provides strong central coordination of learning activities and programs, reporting to a single learning leader, such as a chief learning officer. A centralized structure makes sense for smaller organizations that lack the resources for a diversified learning organization, as well as for larger organizations that have common standardized job skills across significant worker populations. The centralized structure tends to be better at controlling costs, and it is often the best choice for implementing a learning strategy that is tightly aligned with business goals. The potential downside of a centralized structure is that if other areas of the business perceive L&D as ineffective, the learning function can quickly become isolated as departments disconnect and begin executing ad hoc learning programs on their own.
Decentralized Structure
Under a decentralized structure, individual learning organizations support business units with no central coordination, although learning councils may exist to share some common standards and best practices across the various functions. The primary advantage with this model is flexibility and variety—what works for one department may not make sense for another, and a decentralized structure can react and adapt more easily. Budgets are tied directly to the ability and willingness of a given business area to spend on learning, which can be either an advantage or a disadvantage, depending on the situation. Decentralized learning organizations tend to have tighter relationships with SMEs, which can mean information procurement is easier but that instructional design and learning strategy may suffer. The big downsides, though, are obvious: nonstandard training methods and inconsistent approaches to job skills mean workers cannot easily move between business units, cross-departmental collaboration is inefficient, and enterprise-level processes and systems become that much harder to implement.
Federated Structure
The federated structure combines the centralized and decentralized models by having central leadership with shared services and decentralized business unit support that leverages shared services. Ideally, this middle ground takes the best of the other two models—there can be standardized processes and an overarching learning strategy, along with economies of scale keeping costs down, all while giving individual business units the autonomy to build learning programs that suit their specific needs. Potential pitfalls arise from the semi-autonomous nature of the federated structure, as some business units may fail to adhere to standards and directives from central leadership. Similarly, decision making and implementation of cross-departmental initiatives can be slow.
4 Considerations for Optimal L&D Org Structure
The organizational structure that an L&D organization chooses is directly correlated with its ability to deliver business impact. Each structure has pros and cons depending on the type of business (e.g., single product/service or multiple products/services) or how the business is structured.
Learning leaders considering restructuring their L&D organizations should follow these four guidelines.
Begin with the end state in mind.
Before undertaking any reorganization effort, it's important to have an ideal in mind for how the L&D organization could best deliver business value through better alignment. Seek to understand the larger business' organizational chart and how the learning function can support the company's primary activities. Identify how L&D can support not only business strategies and goals, but also the goals and strategies of each key stakeholder group.
Define your strategy, capabilities, competencies, and methods.
The optimal organizational structure is not just about people and boxes—it's about understanding strengths and opportunities, and then figuring out how best to leverage them. Examine and assess the L&D organization before you begin redrawing your organizational chart, and strategize on build versus buy in areas lacking expertise or capacity. This may require outsourcing components of your organization to deliver better quality.
Be cognizant of work relationships and networks.
Reorganization often means realigning people, roles, and relationships. This means moving people into different boxes, there may be implications to underlying work networks and relationships. Learning leaders must consider the informal mechanisms that enable successful team and business partner relationships, including water cooler conversations, personal friendships, prior reporting structures, and the "grapevine."
It's critically important for learning leaders to consider these informal mechanisms through a reorganization and future state because news, gossip, and concerns can spread quickly without formal intervention. Informal work networks are very powerful­—employees go to the people they trust and who they know will help them out. They often circumvent the new organization structure and instead reach out to their longstanding allies and resources.
Involve your L&D team in the reorg process.
Change Management 101 states that an impetus for change must exist and that resistance is minimized when all stakeholders are involved in the process. Not only is it a change management best practice to involve your team early, doing so can yield business insights that will help make better decisions about the reorganization. Team members who work closely with your business partners know their challenges, personalities, and the business itself. Leverage your team throughout the process to ensure everyone is on board with the new structure. Reorganizations often cause stress with teams due to changes in roles, titles, and geographies. Keeping your team involved will increase your odds for a more successful organizational structure and, ultimately, execution in the future state.
While it's beneficial to include the team in the restructuring process, however, it's important not to perform the process in a bubble. To that end, also seek expertise and input from external sources. This may include speaking with other learning leaders in the industry, reviewing research, or hiring external experts.
Topics: Managed Services, Learning Strategy