Learn how to improve ROI with these 6 best practices.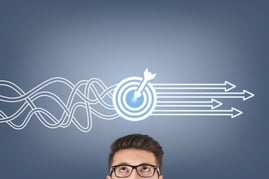 Properly aligning learning and development with business objectives significantly increases the likelihood that the learning function will deliver performance gains and demonstrate a return on investment.
Cost and time overruns are commonplace during the build phase of major business initiatives, and since L&D is often left out of the project planning team, necessary training funds may not be allocated and training timelines could be too short. This digs the learning function into a deeper hole.
One of the most commonly identified reasons why business initiatives fail is because the teams expected to produce the results are not sufficiently or properly trained on the new processes. This white paper contains six best practices that can be used to gain alignment between L&D and the business.
Fill out the form to get the white paper today.