10 Essentials of Effective Learning Strategy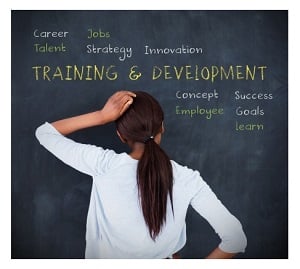 You've been tasked with modernizing your organization's learning and development program, but you're not sure exactly how to structure the learning strategy plan or what all needs to be included.
While the strategy itself will vary depending on your organization's business goals and learning objectives, there is a basic formula for creating a learning strategy that will successfully guide the L&D organization and achieve all-important business executive buy-in.
For starters, know your stakeholders, and simplify your delivery of the strategy based on the business partner's role in the organization. C-suite executives should be able to grasp the strategy at a high level in a few slides, whereas stakeholders responsible for executing the plan will require more detail. Also, realize that the strategy document does not need to be a novel that no one will actually read; keep the strategy simple—roughly 20 to 30 slides, plus supporting materials.
The most effective learning strategies contain the following 10 essential components:
1. Business Case
Specifically identify the business objectives being targeted, how success will be measured, and the anticipated impact on the organization. A business case is most commonly missing in learning strategies. The key decision makers—those who control the budget decisions—need to understand how the strategy will help achieve business objectives, and that means including learning KPIs. Successful learning strategies clearly articulate the business case and justify the requested expenditures for the training and performance initiatives. In addition, take the time to understand how to get training project funding.
2. Key Findings and Recommendations
Include informed recommendations for the learning solutions, tailored to the culture of the organization and developed in collaboration with key stakeholders and subject matter experts. Frame recommendations at a high level, which helps business partners and key stakeholders grasp the end objectives and the road map for strategy execution. An effective learning strategy is easily understandable by executives who don't have a learning background, and includes simple and straightforward recommendations.
3. Solution Map
Learning & performance support solution maps help to visually identify how performance initiatives are supported and sustained after the learning is complete. Sorted by delivery type and audience role, these simple maps visualize the audience analysis by identifying the audience for the training initiatives, how the training will be delivered, and how the audience will be supported when on the job. An example of a solution map is shown at right.
4. Curriculum Architecture Design
Provide a high-level recommendation for learning courseware, chunked by content area or role, that provides guidelines for deeper analysis and design. This is the starting point for a more detailed analysis and design of the learning courseware. This helps business partners clearly understand how the training initiatives fit together, and it also delivers insight into potential gaps between audience and content.
5. Learning Paths
Role-based learning paths visualize the route of professional development that learners will travel throughout the learning process. Helping business partners clearly understand the learning journey enables buy-in for the overarching strategy and provides an opportunity for feedback. Many learning strategies are very focused on learning courseware, neglecting other elements in the learning process like leader support, mentoring, coaching, communication, and performance support solutions.
6. Enabling Technologies
Define the enabling technologies that will support the implementation, delivery, and adoption of the learning solutions, such as a Learning Management System, eLearning authoring tools, mobile devices, social learning platform, or portals. All learning strategies require technology to help enable execution and delivery of the learning solutions. It's critical to clearly identify the types of enabling technologies and how they will be integrated into the overall learning and performance solutions.
7. Measurement and Evaluation Plan
This describes how the training and performance initiatives will be measured, evaluated, and aligned to business objectives. A training evaluation plan is a commonly overlooked feature of learning strategy documents, but it's essential for clearly identifying what data will be collected, how the learning will be measured, what will be evaluated, and who will receive the data.
8. Resource and Budget Plan
A resource plan for both the training team and subject matter experts is needed in order to design, develop, and implement the learning solutions. Resource scarcity is common in most L&D organizations, so establish confidence in the training and development program by clearly identifying personnel and budgetary needs. This will make it easier to secure the resources and funding needed to implement the strategy and guarantee solid training ROI.
9. Sustainable Learning Plan
The process for maintaining training deliverables will be implemented after the learning and performance solutions are delivered, but the process needs to be established well before that point. Determine how training deliverables will be maintained, who will have ownership of training deliverables after the talent development events, and how changes will be requested and implemented.
10. Marketing and Change Management Plan
Outline a plan to mitigate the risk of organizational resistance to some or all of the L&D initiative. A solid change management plan identifies key sponsorship/leadership interventions, a change brand, stakeholder communications, organizational design and talent development considerations, and measurement of business readiness.
The optimal process of developing an L&D brand strategy begins with understanding business goals and obstacles, collaborating across departments, including business partners as active participants in the development of learning and performance solutions, and advising key stakeholders about how the learning journey can be translated into measurable business results.
Condense Strategy Into One Page Plan
Once you've mapped out your learning strategy document, turn it into an easily shareable One Page Learning Plan. A One Page Plan is a condensed version of your strategy, serving as a tool to help better coordinate your L&D organization, streamline your budget, collaborate with other departmental leaders, and align your learning KPIs to the organization's business goals.
Topics: Managed Services, Learning Strategy