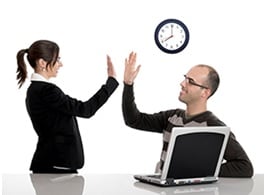 Mobile technology and an influx of Millennial workers used to accessing information instantly are among the factors driving organizations to expand their training initiatives beyond traditional frameworks.
In today's learning & development world, successful training depends on the ability to create and deliver corporate education that is interesting and engaging, and can be accessed when and where the learner desires it.
Here are 4 ways to increase employee engagement in corporate education.
1. Contextualize Learning as a Journey
"If we don't, as learning professionals, realize that our people are learning all over the place—and if we don't help influence that—we may not always be excited about the results that we get," says Diana Thomas, vice president of U.S. training for McDonald's Corp.
"Learning needs to be contextualized as a journey," she says, "with outcomes considered up front and broken down into specific components. Once that is done, it is possible to understand when and how to implement those interventions." The learning journey is real, and learning leaders need to think about how to present training solutions in those terms.
2. Bring Lessons Outside of the Classroom
"Developing corporate education for today's workforce requires bringing the lessons of training out of the classroom," says Tom Griffin, director of learning and development for the IT function of Sears Holdings. He emphasizes that "training doesn't stop at the training room door."
"The very nature of learning and development is evolving," says Paulo Goelzer, president and CEO of the Independent Grocery Association. "We spent a lot of time, in the past, working on instructional design. Today, we are working much more on the environment of learning—what is happening before an event, what is happening after an event. I think that environment is the key, and it is all outside the classroom." And nowadays, thanks to the Tin Can API, learning leaders finally have a way to capture that informal learning and track it through the learning management system.
3. Don't Just Lead—Teach
Griffin believes strongly in the concept of leaders as teachers. He explains how mentoring and coaching are of critical importance in the development of an organization's leadership pipeline: "Many of us have read a lot of books and we've been to a lot of conferences, but really, we learn leadership when the leaders lead us."
He continues, "Having our leaders understand the importance of the influence that they have—the impact, the role modeling and then the influence piece in building your dialog and inquiry capability—is really, really helpful and important. Leaders need to be included in the process of developing formal learning strategies so that it complements the voice and essence of informal learning."
4. Align With Business Objectives
"Ultimately, successful learning—whether in the classroom or beyond—needs to support underlying business objectives," says Gail Leiber, senior director of global learning and development operations for Abbott. "To be successful in supporting the business, we have to be joined at the hip—really understand what capabilities the business needs to be successful in the markets that we compete in. Then, we need to align our learning and development interventions around those." That includes conducting a comprehensive audience analysis to ensure learning is being maximized.
Watch the full discussion at the 2014 Chicagoland Learning Leaders Conference, moderated by Caveo CEO Jeff Carpenter: