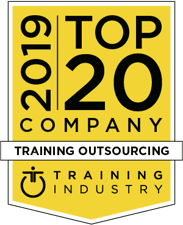 Caveo is thrilled to announce that Training Industry, Inc. has named Caveo Learning to its 2019 Training Industry Top 20™ list of Training Outsourcing companies!
Selection to the list is based on the following criteria:
"The companies on this year's Training Outsourcing Top 20 list are leaders in outsourcing training," said Danielle Draewell, market research analyst at Training Industry, Inc. "Caveo Learning approaches learning solutions with strategic consulting and design and development services. It focuses on providing tools, transparency and flexibility to deliver fast, affordable and high-quality solutions."
"This year's Top 20 Training Outsourcing Companies are an exceptional group of organizations that offer innovative approaches to providing content development, training administration, training delivery, and technology management services," said Ken Taylor, president of Training Industry, Inc. "These companies integrate best-in-class point solutions to develop comprehensive, engaging learner experiences that drive the outcomes the business needs."
Caveo's mission is to transform the learning and development industry by enabling learning leaders to consistently deliver targeted, recurring, and recognizable business value. We provide learning leaders with the tools and expertise to become trusted advisors to their business partners.