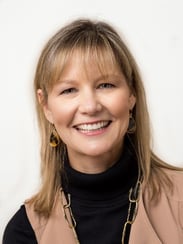 This is part of our ongoing series, Interviews with Learning Leaders.
Cathy Mazan Murata studied marketing/advertising as an undergrad and spent time in marketing research. She brings varied experience to her career, including teaching English in Japan and working in higher education as an Assistant Dean. She consulted with Walgreens and other companies for many years. More recently, she started with GE Crotonville (Global L&D), in 2013 in a global design role and moved to faculty/learning manager role in 2016.
---
Are there trends you see in learning and performance that you love or that concern you?
I love the growing attention on EQ (emotional intelligence) and mindfulness, the focus on mindset as well as a skillset. The recent Harvard Business Review article on "Happiness Traps" and the impact to workplace is a great example.
I also love the implementation of Design Thinking into L&D, particularly instructional design and learner experience. Design Thinking utilizes empathy and experimentation to make decisions and generate innovative solutions to customer's problems.
At GE, we might prototype a small module and test it out, gathering insights from the learners' experience before building out the entire learning solution. It can be a bit scary to put out something that's rough or half-baked. That said, testing, learning, and pivoting quickly ultimately ends up enhancing the learner experience.
What technology are you using or are you excited about?
I am excited about video practice/role play technology to drive continuous learning and application. We are planning to do a proof-of-concept with the Practice platform. With over 300,000 employees around the world, it will be increasingly important for us to utilize digital technology to improve reach and scale for our learning solutions. Continuous learning requires on-demand and frequent learning experiences, not just one-time learning events.
Practice utilizes a video learning platform to engage learners in a continuous cycle of practice, peer feedback, self-reflection, and coaching. We might use the platform for practicing presentation skills, interviewing skills, or having challenging conversations with customers or employees.
The platform allows learners to record themselves practicing the skill through video and then giving and receiving timely, specific peer feedback. The learner reflects on ideas for improvement and learns from experts.
What specific challenges do you face in your role that others may face?
In addition to reducing costs, we are challenged with designing and scaling digital and blended learning solutions that increase reach to more than 300,000 employees around the world.
GE is well known for our Crotonville campus and we invest significantly in highly curated leadership development experiences on our NY campus and other global sites. With 70% of our employees outside of the U.S., we understand that we must provide continuous learning opportunities for employees, many of whom may not have the opportunity to attend an in-person learning experience. Our digital learning platform and learning community, BrilliantYOU, was created to help meet the challenges of learning scale, speed, and provide better performance development to extend the mission of Crotonville.
The goal (and the challenge!) is to make learning continual, mobile, and immediately applicable.
In addition to providing continuous and contemporary online resources, we are also designing and delivering more VILT (Virtual Instructor-Led Training) and MOOC (Massive Open Online Course) solutions. While it is wonderful to work for a company recognized for our $1B investment in training, like most organizations, we are challenged with increasing reach and scale at a lower cost.
Do you have a favorite part of facilitating?
I enjoy observing the aha moments and the journey of self-discovery in many of our courses. I love how participants connect with and learn from each other, the peer coaching.
I also appreciate that the impact of the learning experience might be different for individuals. As an example, I recently had a Talent Acquisition leader in one of my sessions. At the end of the week, she didn't recount the content, learning outcomes, and application. She talked about the connections she made in and out of the classroom with global colleagues from different businesses and functions. She said, "For my job, I have to have a love for GE. This course has re-energized, me and I can't wait to go back to my job on Monday." To me, that's a powerful ROI.
What are a few things you learned teaching English in Japan?
I've had the opportunity to live in Japan twice, once when I was younger and single, and again with my family. These were VERY different and impactful learning experiences for me! Living and working in another country, and learning another language, has given me a more global mindset and perspective. My "American" ways of thinking, being and doing were challenged and I have grown from these experiences and appreciate the cultural differences.
I recently facilitated a course which includes the EQi (Emotional Intelligence) assessment with a global audience. We had a wonderful, rich discussion on the Self-Expression composite which includes Emotional Expression, Assertiveness, and Independence. There can be vast differences in how we show up in these areas and what's considered culturally appropriate. Having an awareness and appreciation for these differences has really helped me in my career, particularly in a global organization like GE.
You bring a lot of passion for learning. Do you ever have you restrain it?
Yes and yes… Two of my top StrengthsFinder "talents" are Learner and Futuristic. Perhaps it's not surprising that I fell into L&D and leadership development. I am crazy curious and have a great desire to learn. I am inspired by the future and love connecting with and developing others.
While these strengths have certainly helped me in my learning career, there were and are times when I need to dial down my enthusiasm and passion in service to my customers or clients. On a personal level, my energy for learning new things can become a challenge if I don't take the opportunity to step back and see the big picture or utilize what I've learned. I also have to temper my enthusiasm by not using the latest learning buzzwords with my customers and focus more on the business impact and outcomes. While those are very important to me as well, they may get lost translation.