Learning that Crosses Borders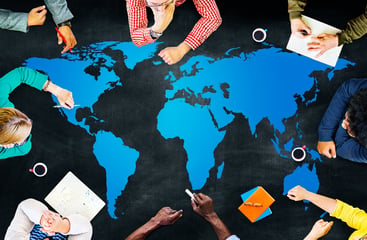 Audiences are becoming more and more diverse. With varieties of native languages in the room, it is important to look at what is helpful as well as what may hinder or confuse when designing learning. You may be designing learning for a French-owned firm that needs to train English speakers. Or it may be a US-owned firm, with global customers and employees. It may be something specific like onboarding or selling skills in varying languages and with varying cultural references.
While you may have done instructional design for many years, an expanded definition of instructional design from a global view is the artistic ability to get the lesson across to any culture or in any language. Here are tips and suggestions to help accomplish objectives across a varied audience when designing or delivering training.
Defining the solution
Do a complete audience analysis, even if stakeholders think they already know everything. Ask questions differently and ask different people. Those questions regarding language skills are extremely important in determining the solution. In the assessment, identify cultural dynamics, language skills, competency on the topics, gender/sexual diversity dynamics, technology, and more.
If training new audiences, review the Hofstede dimensions for context when designing for specific cultures.
Research what solutions have worked well in the past. Does your audience love training, or do they want just-in-time resources to help them to answer questions as they need them? What design methods have worked well for current training? What interactions or engagement has been well received by this audience?
Understand the prominent learning styles but engage ALL learning styles by using different instructional methods. Where possible provide visuals, verbal explanation, and hands-on experience to help make connections.
Determine up front if translation will be needed. If yes, get specifics in order to design accordingly. And plan for it in the project schedule. It will often take longer than expected and it will need to be done once your base material is final. It can rarely be a parallel path, so plan for that time AFTER the design is final. It can be done internally or with an outside translation company. If outsiders do it, plan for an in-house review to ensure industry-specific terms are used correctly.
Designing training to improve learning transfer:
Leverage informal learning options. Give learners a reason to talk to each other, look things up, ask a question that stimulates thought and doesn't necessarily have one finite answer.
Use visuals that help tell the story and not distract from it.
Provide reading materials, even for classes that don't generally require it. Some non-native speakers will look up terms or concepts and gain knowledge before or after class. Don't worry about learners reading ahead; provide some self-study materials that will help them to connect the dots.
Start with gaining the learner's attention and then strive to keep it.
Allow for more space on slides or eLearning to accommodate translation.
Write clear and not overly wordy objectives. Communicate those objectives and refer to them almost like a road map through the course. It will provide the "why are we doing this?" for the audience and help build connections.
Facilitating for global audiences:
Know your audience preferences. There are cultures that look for a lecture style, and there are topics that have a defined right answer. So strike a balance of interaction and sometimes giving them the information they are there to learn.
Where appropriate, ask for learners' own ideas and examples.
Encourage mentoring in the room or with the larger course audience.
Leverage objectives and agenda so people can track where they are.
Strive to balance between experienced learners and those not as familiar with the topic.
Use images to help convey ideas and show a visual process or course flow.
Build in time for students to process and understand.
Be aware that you may not know cross-cultural meanings.
Use effective communication—plan and practice giving clear instructions.
Avoid idioms and metaphors that will not be helpful to non-native speakers or people from a different country (sports, for example).
Get to know your audience where possible.
Judge the pace and pay attention—keep it slow and simple depending on language proficiency.
Make no assumptions—know everyone is not all on the same page.
Have a tolerance for side conversations—they may be helpful to understanding.
Ultimately, building learning that crosses borders required thoughts and planning. Put yourself in the learner's position: You have a low language base and you're trying to learn a new concept or process. You encounter terms you don't know. What would help? Seeing materials in advance can give non-native speakers time to identify new vocabulary, ask questions for clarity, and start to make connections. Let representatives of the audience see your materials in advance—they can help to mitigate possible problems, improve clarity, and identify disconnects you might not catch. Try these tips for defining, designing, and facilitating your content to this growing audience group.
---
Renie McClay is a learning project manager with Caveo Learning. Before joining Caveo in 2014, Renie held a variety of learning leader roles for companies including Kraft, Gerber, and Pactiv Corp. She has a master's in global talent development from DePaul University and is a Certified Professional in Learning & Performance (CPLP). An adjunct professor at Concordia University and Roosevelt University, she is a renowned expert on global training and sales training. McClay has authored or contributed to 10 books, including The Essential Guide to Training Global Audiences and Fortify Your Sales Force.
Topics: Instructional Design, Global Learning