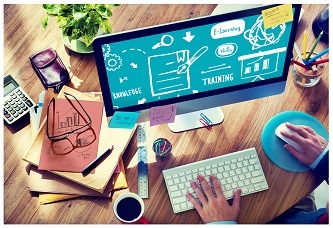 The major types of modern training each have their advocates among learning professionals, and we believe there is a time and place for eLearning, instructor-led training, virtual ILT, and on-the-job training, along with their many sub-genres. That's why a blended learning curriculum that incorporates several training formats into an integrated whole is often the best instructional design strategy.
Blended learning leverages the strengths of each delivery type to align with how people acquire and apply knowledge and skills. A blended program is often the most efficient and effective way to deliver learning, particularly to large and geographically dispersed populations, and while there is complexity to conceptualizing and implementing a cohesive blended program, the benefits usually make the effort worthwhile. Most crucially, from a learning budget standpoint, by reducing face-to-face time but still retaining a degree of instructor involvement, blended learning allows for considerable cost savings without eliminating the advantages of personalized interaction.
Here are some examples of how different learning components can work together to form an effective blended strategy.
eLearning for Primer Knowledge
A blended learning curriculum might kick off with an eLearning component designed to bring all learners up to speed. Leverage impersonal computer-based training to address any prerequisite knowledge gaps that participants may have, and to provide a convenient preview of what skills will be necessary in advance of the training session.
Likewise, use eLearning to train on some of the more technical, dense, and perhaps mundane knowledge items, such as processes and procedures. eLearning enables participants to learn these important concepts at their own pace, allowing for repetition where necessary. Moreover, we can validate that information transfer has taken place via knowledge checks and assessments, with course retakes where appropriate.
Check in with Online Discussion Methods
Use synchronous or asynchronous online discussion methods to preview or summarize content before and after live training events, and to check in on learner progress and challenges. Incorporating a social learning component, like a designated group on Facebook or LinkedIn, or a moderated discussion on a closed network like Yammer, can serve as a great way to build teamwork and camaraderie away from the classroom.
Dive Deeper with VILT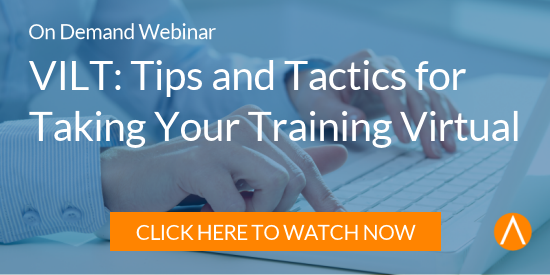 In the context of a blended curriculum, the virtual training environment is ideal for practicing distance-friendly skills like inside sales or remote customer service. VILT also fosters learner autonomy while being able to simultaneously connect a training cohort, which is effective for team building as well as brainstorming and collaborative learning. Additionally, VILT makes it easy to enable subject matter experts, company leaders, and other guest speakers to interact with geographically dispersed learners. VILT facilitators may employ virtual whiteboards, polling, and other online tools to ensure participation and knowledge transfer. On-the-job behavior and practical application are ideal types of training content for this format.
Focus ILT on Skills Practice
A blended initiative is the perfect time to experiment with a "flipped classroom" model, in which participants learn the content ahead of time, and then use the in-person classroom experience to discuss, practice, and apply the knowledge while face to face with peers and the instructor. In a sense, the flipped classroom is the very essence of blended learning; while a learning program need not necessarily include a live ILT component to be considered blended, it is the logical culmination of a multi-format curriculum.
Case Study
Here is a practical example of a blended program in action.
A software company was transitioning to a new implementation methodology, which impacted roles, tasks, processes, and customer and team interactions. After a review of roles, tasks, interactions, and content, the company developed and executed a role-based blended curriculum. All roles completed foundational, fact-, and process-based elearning. Select roles checked in and discussed specific issues via threaded discussions. A subset of those roles participated in VILT sessions to discuss case studies from a pilot of the methodology. Finally, customer-facing roles participated in a two-day workshop at corporate headquarters that included case study discussions, panel discussions with key stakeholders and leadership, and dialogue practice sessions.