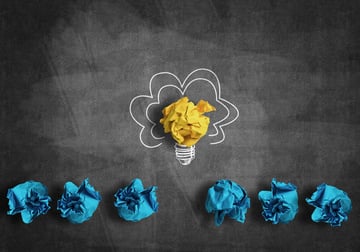 Are you struggling to be creative? Do your eLearning courses seem uninspiring? If so, do not despair. You may be surprised at the number of instructional designers and trainers who lament their lack of creativity—especially when their businesses expect continuous innovation.
If you want to build creative learning activities, no matter what the medium—in-person, virtual instructor-led, or digital learning—first clarify your purpose for the activity. Ask: "What learning do I want the participants to achieve?" Start with the end goal in mind, or your creativity could miss its mark with recipients.
This may seem counter intuitive, but it can be easier to come up with creative ideas if you're operating within a structure. Understand the purpose of your learning program or activity, identify your resource constraints and timeline, obtain demographic information about your audience, and consider other relevant details necessary to produce quality training learners will find engaging and will retain.
Identifying the purpose for a learning activity can make it easier to tap into your creative juices, helping you make connections that aren't always obvious. For instance, popular TV shows, childhood games, game show formats, or video games are fertile learning grounds. But without an open mind, you might not immediately see their relevance to an adult training audience.
Below are examples of how games can be applied to creative adult instructional design:
Imagine watching a class in a call center. The participants have just completed a game of Telephone, and someone says, "Can we have more games like that? Games like from when we were kids, perhaps Red Rover or Red Light Green Light?" Your job as a learning leader is to use their desire for a specific type of game, link it to an actual learning purpose, and inspire them to interact fully in the moment. A Red Light, Green Light game about telephone etiquette can then be created to train the learners to build rapport with the customer.
Picture a game at a museum centered on instructional design and learning projects. Each team has to find paintings, statues, and other artwork they deem to portray concepts like scope creep and passion. When a piece is found that speaks to a team, a picture is taken with the item and a few bullets on why the piece was chosen are written. Following the session, imaginative learning projects will emerge.
Brainstorming with peers can also spur creative learning solutions. Imagine you are in a group, and hear a story about a rural area having problems with ice forming on phone lines. After listening to the story, you joke about putting honey pots on top of the poles so bears can shake the poles—thereby loosening the ice—while trying to get to the honey. You get some laughs, but also inspire a woman in attendance. She mentions how, as a combat nurse, she saw how the downdraft from helicopters caused quite a disturbance. It turned out to be a workable solution to help de-ice the phone lines that she never would have connected without the joke about bears shaking the phone lines.
Finally, never forget the internet. You can search for creative ways to deliver content by performing searches for games or by searching for images related to the content you're developing. Then let your mind go where it will. You may stumble onto something great.
Building your creative CORE qualities can also help you to create interesting learning activities:
Curiosity—Act with curiosity by exploring the world. Question things, connect with people, or seek out enriching environments.
Openness—Be open to new and unexpected experiences. Be flexible and have respect for different perspectives and unfamiliar ideas. Seek out sites like awwwards.com where you can connect to innovative websites and new digital designs.
Risk tolerance—Have the courage to take risks. You'll need courage to leave your comfort zone, and understand that some risks will pop, and some might fizzle. And sometimes, the fizzle will spark an idea that you can embrace.
Energy—The best creativity creates excitement and passion for the possibilities. Be sure you fuel your work with a spark of passion.
Expanding your creative CORE qualities will help ensure you have less down time developing your learning activities—and the audience will have greater retention of your learning content.
---
Terry Goins is a senior instructional designer with Caveo. Before joining Caveo in 2013, Goins worked in various design, development, and facilitation roles for a variety of large companies, including Halliburton, Northrop Grumman, and Anheuser-Busch. Based in the Houston area, she holds a business degree from Texas Tech University.
Star Fisher is a former senior instructional designer with Caveo. Fisher has decades of experience as an instructional designer and has been called the "Games Guru." She holds a master's in instructional and performance technology from Boise State University and is a Certified Professional in Learning & Performance (CPLP).
---