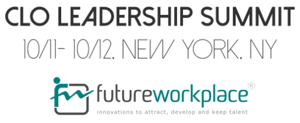 Caveo CEO Jeff Carpenter will be participating in a leadership panel to discuss how AI is impacting the employee experience at this year's CLO Leadership Summit, hosted by Future Workplace. Held October 11–12 in NYC, Jeff will join Michael Bland, CLO of TIAA, and Bob Fogel of McGraw Hill Education on the panel, and Kevin Mulcahy, Partner at Future Workplace, will act as moderator. Caveo is also a proud sponsoring partner of the summit.
This leadership panel, titled How AI is Impacting the Employee Experience, will be held Friday morning at Infor HQ in NYC, and will aim to answer the following key questions:
How can AI be used to transform and enhance recruiting, new hire onboarding, talent mobility, learning & development, performance management, and coaching?
How could HR leaders get started with using AI for HR?
In addition to this panel, expect to:
Hear from senior practitioners about how they prepare for disruptions in data driven learning, credentialing, balancing skill and knowledge development, and linking learning and leadership.
Engage and network with fellow participants to share insights on new learning practices.
Learn for the latest research and expert insights on new practices that will transform the way we learn and work.
Furthering Caveo's Commitment to L&D
Caveo partners with learning organizations to deliver tangible business value by providing integrated strategic consulting, custom learning, and managed services.
Our focus is on delivering cost-efficient and high-quality solutions with consistent, measurable, and recurring ROI, through learning initiatives that align with enterprise objectives.
Our team of learning experts tailors the full range of learning & performance solutions to suit your company's business needs. At Caveo, we're determined to add value to each and every project, no matter how finite or targeted.