6 Tips for Developing Your Corporate vILT Strategy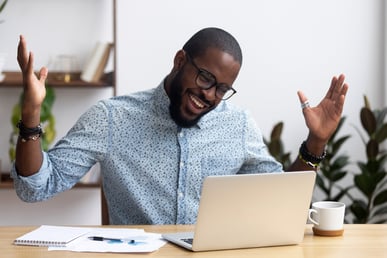 The pandemic has forever changed corporate training programs. Before, organizations saw virtual instructor-led training (vILT) as a luxury. Now, it's a necessity. In this blog, we outline six tips for getting your corporate vILT strategy off the ground.
Pandemic lockdowns forced companies to pivot from in-person training to virtual training. Due to time and budget constraints, many operational learning leaders created vILT programs on the fly because they were quicker and cheaper to produce than other types of remote programs such as eLearning.
While the results were promising, companies learned they needed to optimize their vILT programs for the long haul to get the best results.
What is vILT?
vILT uses web conferencing technology to allow facilitators to teach an online audience in real-time. It's different from other remote training programs because it's synchronous (co-occurring) rather than asynchronous (eLearning that allow learners to watch recorded lessons at their own pace).
Whether your company is building a vILT strategy from scratch or updating an existing one, here are six tips for getting the most out of your program.
Leveraging Your Corporate vILT Strategy: 6 Tips
Corporate vILT is essential because it allows you to train your employees even if they can't come into the office. If you want your vILT strategy to be effective, follow these six tips:

1. Do It for the Right Reasons
Adopt corporate vILT because you want to, not because you have to. If you don't put your heart into the strategy, your program will be soulless and ineffective.
One of the most significant advantages to vILT over eLearning is that the facilitator can talk, ask questions, and interact with learners directly. This helps the audience buy into the learning process, which produces better results.
While eLearning has its advantages—it's great for learning facts, processing steps, and memorizing information—the format is less engaging for an audience, which will be prone to zone out or get distracted.
After all, telling isn't training. You need to engage with people for them to learn. vILT allows you to make changes and impact behaviors because you interact with the audience in real-time through a virtual environment.
2. Invest in the Technology
You can't have a vILT program without technology. That's why you need to invest in a platform that meets your needs.
With dozens of virtual platforms out there with slightly different features, it can be challenging to figure out which one is right for your corporation. For the best results, make sure your platform has these key features:
Chat
Breakout rooms
Screensharing
Whiteboards and annotation
In addition to the virtual platform, you need complementary equipment and software to give your learners an optimal experience. That includes quality video cameras, audiovisual equipment, and internet bandwidth.
3. Prepare Your Facilitators
No matter how great your technology is, the success of your vILT program depends on your facilitators. They need to be able to use all the equipment at their disposal if they want to provide the best virtual learning experience possible.
While people have grown more comfortable using virtual meeting platforms, it doesn't mean your facilitators are ready to hold full-fledged lessons for your employees.
It can be difficult handling the technical aspects of an online classroom while also leading it. Have your facilitators do a test run before their first lesson to ensure they are comfortable in front of the camera and familiar with the tools. Consider having a producer online to handle technical aspects like setting up breakout rooms so your facilitator can focus on the learners.
4. Resist hybrid models
With vILT, hybrid models are not recommended. This is true even if you have a hybrid working environment where some people work in the office and others work remotely.
Instead of having a few in-office workers in a conference room with others dialing in, it's better if those office workers participate from their own office desks. Doing it this way is less awkward and helps everyone feel like they're on the same page.
5. Create Group Agreements
Group agreements are guidelines on how your virtual classroom will handle discussions and meetings. They help everyone stay informed about what's expected and allowed.
Here are some common group agreements you can use for your vILT program:
Chat at any time: This helps facilitate conversations between learners and the teacher. Plus, it can help introverts feel more comfortable participating because they don't have to speak on camera.
Keep microphone on mute when not talking: This makes it easier to focus on the facilitator because there won't be distracting background noises or side conversations.
Turn on camera when talking: This way, people can see who is talking, making the virtual environment feel more personal.
Show up on time: No one wants to wait around for that last person to show up. Learners should be respectful of everyone's time by arriving on time.
Silence phones: Everyone's phones should be set to silent to help avoid the urge to check their device every time they get a notification.
No multitasking: It's easy to multitask in a virtual environment because you can have other screens, phones, and items on your desk to distract you. Having a no multitasking agreement keeps learners focused on the lesson.
6. Reinforce the Training
You can spend as much time and money on an elite vILT program as you want, but none of it matters unless you reinforce the training.
Each lesson's applications and takeaways need to be supported with additional learning activities and material to make them stick. While this concept is true for all learning events, it's vital for virtual programs.
Here are a few ways to reinforce the training:
Provide follow-up training
Assign post-training assignments
Complete check-ins after 30 days
When you reinforce the training and your organization acknowledges that it's important, your employees will be more likely to take it seriously because it holds them accountable. Bringing accountability to your vILT program elevates it from a one-off webinar to an authentic learning event.
Learners will be more dedicated to showing up to the virtual classroom because they know it will further their careers and their ability to do their jobs well.
Conclusion
Corporate training programs are evolving. Are you keeping up? vILT is not the future, it's now. It's in your best interest to leverage your strategy using the tips outlined above. Your employees will thank you.
Topics: Instructional Design, Learning Strategy, VILT