Transitioning to a Fun Instructional Design Career with Self-Teaching and Education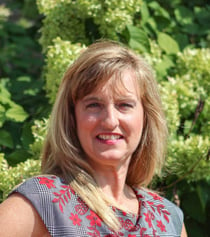 After 16 years in veterinary medicine, sales, and training and development, Kelly Roche decided to change careers and pursue learning and development. She found her first opportunities working as an adjunct instructor, instructional designer, and course developer. After a few years of self-teaching, Kelly decided to earn a Master of Education in Instructional Design. Now with this degree, she works as a full-time Instructional Designer for Lumeris, a value-based managed services operator for health care and providers.
Kelly's primary responsibilities include eLearning design and development as an instructional designer, where she creates soft skills eLearning for employees of Lumeris. She is responsible for all aspects of the design and development process, as well as researching survey tools that Lumeris will use to start implementing an evaluation process for all courses.
Throughout all her careers, Kelly's passion has been to help people fix a business or training problem. She enjoys working with clients to find a "gap" (business or training problem) that a product or training can fix.
What have you found inspiring about your work?
I have a passion for teaching and helping people become their best selves. I get inspired when I see that people have benefited in some way from training I create or when it makes a difference in their job or life. For example, during my time as an adjunct instructor at Brown Mackie College, I was pleased to see the change in my students. Students became more engaged and motivated after I changed up the previous teaching methods. I transformed classroom training from using boring PowerPoint presentations to using interactive learning with Nearpod for their iPads, role-playing, and even having them make models of the gastrointestinal system using Play-Doh! Many students said they enjoyed the change, and also most of their grades improved.
You self-taught yourself Storyline. Any tips for others wanting to do the same thing?
To start, go to Articulate Community, and check out some samples of what is possible. Next, I would start going through their tutorials. They have everything you need to get started free. Just watch videos and practice in the tool using the training. Once you get a few skills under your belt, start creating your own courses. When you get stuck, go back to the community board. You can search for so many topics and get help. If you can't find it, post a question to the community or escalate it to the Articulate technical team. They have always helped me.
What do you see as essential to an ID creating programs that "fit" or "work" for the business?
Don't create training in a vacuum. Do your learning analysis. Identify the gap, the big idea, and what you want them to be able to do at the end. Without some sort of analysis in the front end of the design and development phases, you are basically launching arrows and hoping they stick, so to speak. If you don't have access or time to do a thorough analysis, take some time in advance to create learner "personas." These are fictitious characters that are indicative of a larger learner population. The characteristics, personalities, workstyles, and requirements of that group are used to create training. Your training program will work or fit the company if it solves a business need.
Your master's thesis was on evaluation. What do IDs need to know about evaluation and metrics?
In my thesis, "Master's Project Evaluation Report for a Technology Artifact," I used a three-step system to evaluate a prior eLearning course I created in Articulate. The system was derived from the Dick and Carey Model of instructional design and the Kirkpatrick Evaluation Model. Three groups evaluated the course: the subject matter expert, a small group of instructional designers, and a field trial with the end users (high school students). Using three groups' evaluation responses provides a more thorough way to evaluate a course. While it is not possible to perform this thorough of an evaluation each time, it is good to try to get a variety of responses from different groups when you can.
Regarding the Kirkpatrick model, IDs need to try to focus on Phase 2 (Learning), Phase 3 (Behavior), and Phase 4 (Results.) Phase 1 is "Reaction." This is merely a general response on "How did you like the course?" which is used commonly on training surveys. It does not give you an accurate review of the course by itself.
IDs need to try to gather as many responses as possible to make the results statistically significant. Evaluations can be done both quantitatively with survey data and qualitatively with discussions and interviews. Both are equally valuable.
Do you have tips for instructional design and development tools needed to be successful?
For development work, I have always used Articulate. I started using it from version 1 and now am using 360. I highly recommend 360 if you can get it—it's the only version with Review and Content Library. You also have access to video editing tools like Peek and Replay. Review alone is worth the purchase. It enables anyone to review your course, even if they don't have an Articulate license. In addition, I think Camtasia is essential for more accurate video editing. For storyboarding, I use PowerPoint. For project management, I used a Word doc template or Excel file template. I also want to explore other tools for fun like GoAnimate, Vyond, and Animaker for animated videos and eLearning.
When starting a new role—tips for learning the new biz?
If it is a job change, you will have transferable skills. Apply what you already know to the new role. Complete all new hire training and pay attention to it—don't just go through the motions. Find people who are experts who welcome your questions. Learn the "elevator speech" about what the company does to explain it to others. Become a constant learner. Ask management for training on any skills you want and need to master to become an expert in your role and prime you for upward advancement.
Can you tell us a career highlight and why it was impactful to you?
A career highlight was earning my master's degree in Instructional Design at age 50. Some people think, "Why bother?" I say, "Why not?" Earning this degree allowed me to pursue my true passion in learning and development and change careers.
You got your master's degree later in life. Do you have any advice for people considering gaining more credentials?
If you are older and want to start working on a degree but don't think you have time, check around. There are many ways to earn a degree online these days! I earned my master's degree 100% online at the University of Cincinnati. Instructional design is a relatively new field, especially for master's degrees online. In addition, I earned this degree almost 100% free! If you work at a university, many offer tuition remission (free tuition) as a perk for employees.
If you are in a new role, what is the first thing you do? First thing you focus on?
Get to know the team and learning audience. Find out who does what and what each role does. Once you understand those completely, start prioritizing work. In many cases, there is a backlog of work with recently filled positions. Ask for a manager's assistance to prioritize what should be done first. Once urgent tasks have been completed, start planning.
For future opportunities, search for what is needed around the organization. Anticipate what is coming up in the business and try to recommend training at the point of need or before it is needed. Be sure to market your training options. To find these opportunities, schedule short meetings with stakeholders. What are their needs? Show how your training courses can fill a gap to fix a pain point or business need.
Do you have any pet peeves?
I hate boring training. Now there are so many technological options to make training interactive and fun! No one wants to sit in a classroom session where the facilitator clicks through PowerPoint slides or the eLearning equivalent. Take time to go to training to learn how to make it fun and engaging if you want learners to get something out the course and return. My daily challenge to myself is to find ways to make learning innovative, challenging, and fun! I try at all costs to avoid boring learning.
Topics: Training and Facilitation, Interviews with Learning Leaders