Strategies for Successful Learning and Development Partnerships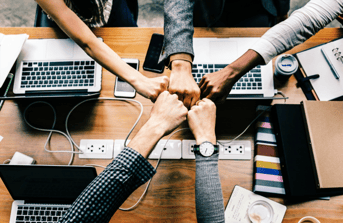 At some point, all learning and development organizations are faced with the need for a learning partner—business objectives or performance gaps may demand L&D personnel and expertise that can't be organically added in a timely or cost-efficient manner.
Large-scale partner arrangements are more common than many learning leaders realize, but so too are potential pitfalls. Learning leaders generally have a pretty solid idea of what they hope to get out of L&D services arrangements, but for a host of reasons, partnerships don't always deliver on expectations. However, thoughtful planning, including asking the right questions as part of the careful evaluation of prospective partners, can go a long way toward ensuring a productive L&D partnership arrangement.
Here is a look at the motivations, challenges, opportunities, and benefits facing learning leaders when it comes to learning partner services, as well as what to consider before engaging with a learning partner.
In a live webinar, we asked participants what their fears or concerns are in an L&D partnership. Responses included:
The RFP process
Getting approvals
SME reaction to outsiders
Inflexibility due to procurement contracts
Poor technology quality
Failure to achieve expectations
Internal staff change management
Some of these issues are intransigent—RFPs are a necessary inconvenience, and there's there's only so much that can be done about a locked-in contract—but most challenges can be adequately addressed with careful upfront planning.
---
4 Steps to Selecting a Learning Partner
There are four basic steps to setting up an L&D partner arrangement that works for both parties.

1. Develop the fact base. Determine scope and requirements, perform category spend and target cost analyses, establish quality criteria, and evaluate current offshoring practices within the organization. Know how much is currently being spent on related initiatives, and where it's being spent. Likewise, determine total cost of ownership of the engagement—not just the direct rates to be paid, but the full price of what is going to be required to get it done.

2. Design sourcing strategies and tactics. Determine partner screening criteria, and perform a partner economic analysis.

3. Create the partner portfolio. Compile a list of potential partner candidates, along with the qualification criteria you will use to ultimately select the partner.

4. Negotiate and implement the supply agreement. Issue RFPs and evaluate the responses. Once the partner is chosen, create detailed implementation and communication plans. Establish partner scorecards, which will eventually help both parties understand whether the partnership has hit the mark—what does success look like, in other words.

The full selection process should take about two to four months, start to finish, assuming a relatively large project; a smaller, one-off engagement will likely require considerably less planning time.
---
5 Challenges to Successful L&D Partnerships
Once the decision is made to engage an external partner, there are five common challenges that learning organizations face in achieving a successful L&D partnership.
1. Low employee engagement with content. Typically, this reflects distribution of irrelevant content—advanced users taking training intended for more novice users, for instance, or vice versa. Or it could be the case that learners don't easily understand how the content ties back to their job role.
2. Subpar quality of instructional design. It can suffer when firms deploy inexperienced resources, or when instructional designers depart from design standards. This tends to happen when vendors heavily rely on offshore designers from regions where instructional design education and best practices are not well established.
3. Total cost of solutions exceed expectations. Oftentimes, the focus is on unit pricing, not the total cost that comes with it. Rework happens sometimes, and there may be misalignment around deliverable quality or resource expectations, all of which can drive up the final price tag.
4. Inefficient design and development processes. When tasks are sourced, there may be misalignment on internal standards around processes, expectations, and program methodologies. Be sure to pressure-test to the vendor partner's processes and instructional design standards before committing to a long-term arrangement.
5. Poor working relationships with subject matter experts. Positive SME relationships are absolutely critical to the success of any learning engagement, internal or external. They need to understand their role and expectations, anticipated time commitment and necessary availability, and turnaround times. Additionally, rotation of partner resources is another big issue—nothing frustrates SMEs more than when they've worked to get instructional designers up to speed, only to see that person swapped out with someone else.
---
Choose Your Sourcing Strategy
There are three main types of sourcing strategies: project-based, resource-based, and managed services contracts. Each offers certain cost-saving opportunities, depending on the size, scope, and duration of the project.
Project-Based Contracts
Project-based contracts are best for initiatives requiring multiple specialized skills, overall project management, and coordination between varied resources. In project-based engagements, it's critical to have clear alignment on deliverables—size, scope, shape, standards, etc. In this arrangement, the outsourcing partner is ultimately responsible for the quality of the deliverables, as the organization has contracted for a specific set of outcomes, and internal leadership is not generally involved in the day-to-day progress of the project.
The primary advantage of a project-based contract is pricing—the organization can leverage the project's scope to drive down unit rates on deliverables and institute a not-to-exceed spending cap. It also provides more opportunity to optimize resource mix for skills, tenure, location, etc., along with defining quality and adherence to standards.
Resource-Based Contracts
With resource-based contracts, the learning partner provides a specific resource with a specific skill set—this is essentially the staff augmentation model. The organization provides day-to-day guidance and supervision, and is ultimately responsible for deliverable quality.
This arrangement allows for negotiation of hourly rates, and the necessary day-to-day involvement of organizational leaders helps ensure compliance with project expectations. It also helps reduce resource turnover—you're paying for specific individuals, after all—and to optimize tenure and skills based on program requirements.
Managed Services Agreements
This framework tends to be the biggest and most complex of the three sourcing strategies. The outsourcing partner provides a specific service or product (learning materials maintenance, full program development for a specific product line, etc.) based on a predetermined service level for a defined or ongoing time period.
Managed services agreements typically have higher offshore ratios for appropriate roles, and processes may be redesigned specific to project needs, both of which result in lower total cost of ownership. It also allows for optimized service levels, and for the organization to define quality expectations by deliverable and to ensure adherence.
---
Know Your Role(s)
Accurately scoping and costing the learning partnership arrangement requires, among other things, being able to closely approximate the resources and hours needed from various project roles. Start by identifying basic project roles—instructional designer, technical developer, project manager, facilitator, etc.—and estimate the total work hours needed to complete the project. Divide the allotments into manageable periods, whether weeks, months, or quarters, and weigh those resource needs against your committed supply of resources (such as internal team ongoing responsibilities and anticipated contractor availability).
This analysis provides insight into sourcing needs, both in terms of general skill sets of resources and the volume of hours to be bridged. Additionally, use this intelligence as a basis to negotiate volume discounts up front, as opposed to paying a higher usage rate. The more accurate this projection, the greater the eventual cost savings.
---
Consider Non-Financial Factors
Pricing is obviously a major component when selecting a learning partner, but it's a mistake to think it's the only factor. In fact, non-financial considerations can significantly impact the overall cost, and they're often hidden, arising in unexpected time and fashion. Here are six non-financial components to consider when assessing partner relationships:
Responsiveness. How responsive is the L&D partner to changing business needs and realities?
Control and visibility. Make sure processes are clearly defined, and that the learning organization will have ongoing visibility into project status and challenges. You want to be able to keep tabs and course-correct early when things are in danger of going off the rails.
Quality of work. Hours spent on rework can drive a lot of stakeholder dissatisfaction, not to mention additional cost.
Flexibility. How quickly can the L&D partner react to ad hoc requests, special projects, and changes to work volume? If a partner isn't flexible or able to adapt, it can place the entire project in a predicament.
Experience and expertise. Not having appropriate background and skills in areas where it's needed can be a tremendous drain on the initiative.
Strategic planning. The ability to think strategically and understand business impacts, business drivers, and stakeholder goals and perspectives, is absolutely critical to achieving success and ROI.
Each of these things can affect the total cost on the back end, which is why it's so important to have a holistic picture, and not just the unit rates that you're paying.
---
5 Common L&D Partnership Misunderstandings
There are five areas for common misunderstandings when it comes to partnership agreements:
Term length and expiration. Auto-renewal of contracts can help mitigate potential project delays; you don't want to end up in a situation where the contract expires in the middle of a project. Also, consider adding a termination-for-convenience clause to the agreement, which helps avoid being locked into a long-term contract requiring the use of technology that isn't meeting your needs.
Scope and assumptions. Agree on who will provide the content and where it will come from. Address roles and responsibilities, making clear who is handling what tasks within the project, as well as timing allowances—how long do SMEs have for reviews, and what happens if there are delays.
Acceptance criteria. Work out expectations around the quality of deliverables, as well as the deliverables' size, and whether that's defined by seat time, training hours, page count, etc.
Service level agreements. Define SLAs, and the penalties for failing to meet them. You might consider asking for periodic stakeholder satisfaction surveys, making sure stakeholders are happy with the work of the learning partner and allowing for course correction before it's too late.
Pricing confusion. Use rate cards to ensure consistency across your partner pool, differentiating pricing by role, geography, and experience. Depending on sourcing strategy, you may include fixed-fee pricing, not-to-exceed caps, and volume discounts.
Topics: Managed Services