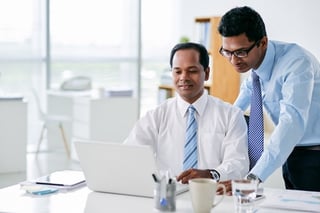 The process that learning & development professionals follow when designing and developing learning deliverables helps all players on the project team complete their specified tasks. The review cycle stage—when the deliverables are examined by the stakeholder—is perhaps most critical.
Before the learning project begins, it's crucial to determine when reviews will take place, what needs to be reviewed (and to what depth), how long reviews should take, etc. The learning project plan should take all of this into consideration early on, and it's important to establish expectations and set the foundation for the "how" in relation to review cycles. Here are some basic guidelines for managing and executing review cycles for both the stakeholder and the L&D team.
Establish Review Expectations Early
The stakeholder's review of deliverables allows the L&D team to drive closer toward the final product. The struggle with review cycles comes when stakeholder expectations are unclear, unleashing a never-ending circle of edits and updates. We recommend using a framework in which the number of edits diminishes as final delivery gets closer.
For eLearning projects, the standard of delivering at alpha, beta, and final (or "gold") is helpful. At each of those markers, define what percentage of edits you expect from the stakeholder; a good benchmark for alpha (which is a working version of an eLearning deliverable) is roughly 10% change. At beta, which is an updated version of the deliverable based on edits captured at alpha, aim for about 5% change. And at final, which is the review of the (hopefully) completed version, you should expect to receive no additional edits.
For learning deliverables other than eLearning, a formal beta review may not be required because the complexity of the deliverable is lower than a typical eLearning.
For the benefit of the stakeholder: Before a project gets the "green light" and the team starts working, lay out process and overall working expectations with all team members at a project kickoff meeting. Here you can explain at a high level, "this is how we will get this work completed." Within that, detail how review cycles work.
When the review cycle is defined early on, process roles and expectations are established. You may have to issue gentle reminders periodically, but those reminders will be better suited for the health of the project.
Use Tools to Capture Feedback

When possible, use tracking tools to document change requests from submission to completion. Ideally, it won't be necessary to review past comments to verify whether a fix was logged and executed, but if such a situation arises, you will want a simple way to locate that information.
If the deliverables to be reviewed are Microsoft Word documents, you can use that software's Track Changes and Comments features, for instance. Likewise, if the deliverable is a Microsoft PowerPoint deck or an Adobe PDF document, those platforms also have built-in Comments features.
eLearnings or other deliverables that are not easily editable by the reviewer require an additional tool to contain edits and feedback. There are various online feedback collection tools that log, date, and track edits; the eLearning deliverable is uploaded to an online portal, and the reviewer logs edits page by page. Not all projects have the budget for this type of tool. In that case, you can simply use spreadsheet software, like Microsoft Excel, to collect edits and track completion. Format that tracker so the review process goes as smoothly as possible, labeling columns for the specified details you need to identify and capture, such as:
Deliverable name
Date of review
Reviewer name
Slide identification (preferably a number, or at least a title)
Details about the element needing changes (this assists with establishing content for the edit itself)
The changes to be made
Questions/comments
Open/in progress/closed
Date of verification
Columns can be more detailed or even segmented for the various groups involved (stakeholder/designer/developer/quality assurance). As the tracker is shared between the L&D team and the stakeholder, it will house the status for where edits are in the process. To assist with versioning control, the tracker should be maintained on a cloud storage system that is accessible to all relevant parties.
For the benefit of the stakeholder: Orient how the tracker document should be used by logging a "sample" as the first item, to demonstrate exactly how reviewers should enter information. This will minimize the kind of vague comments that plague review cycles.
Provide Clear Directions and Instruction
Setting expectations early is key to a smooth review process, and so is providing clear directions along the way. Communicating clearly, while restating and clarifying steps when needed, will be beneficial. At each stage in the review cycle, assist stakeholders by defining what they should be reviewing and commenting on. For example:
"At design document review, we expect to see edits related to learning objectives, audience, and overall flow of the course."
"At storyboard review, we expect to see edits related to specific slide content, and graphical and image selection."
"At alpha review, we expect to see textual edits, some image/graphical edits, and to verify the audio script."
"At beta review, we expect to see minimal textual edits."
"At final review, we expect no additional edits, just verification that past edits are completed."
Draft and use templated communications for each review cycle to assist with efficiency and consistency. The communications should clearly define what the stakeholders are to review, how they are to document edits/changes, and the deadline for completion and return.
For the benefit of the stakeholder: Organize review cycle communications to place the most important information at the top, so stakeholders will be ready to complete reviews efficiently and effectively. For example:
Brief description of what review step it is and what deliverable is being reviewed
What documents are attached or linked to
What is needed by the reviewer:

Review the XYZ deliverable
Review the document looking for [describe what the stakeholder should focus on]
Log edits and changes in the tracker

Refer to the sample item in the tracker for how to log items

Complete your review by [insert date, time]
Send/post your tracker at [insert location]

What will happen next
Thank you!
Hold to Due Dates, but Be Flexible
As you continue moving through review cycles and updating deliverables, keep abreast of timelines and progress. When a review cycle starts, be clear with the stakeholder as to when their part should be completed and returned. And as the days tick by, don't be shy about checking in to see how the review is going—it isn't a stretch to see how a stakeholder may "forget" about the deliverable and their review. Plus, this check-in helps to build a partnership with the stakeholder.
If the stakeholder is unable to deliver by the deadline, inquire as to when they can complete it. If the L&D team can work to smooth out the missed time, it will help develop the relationship. But if the project plan is tight, explain how the delay will impact the schedule. Typically, a one-day delay on their side equates to a one-day delay on the L&D side.
It's important for someone on the L&D side—project manager or otherwise—to communicate with the stakeholder about dates at each step through the project. There should be no surprises related to missed target dates.
For the benefit of the stakeholder: Include the due date/time in the communication subject line to ensure it is right in front of the stakeholder at the start.
---
Joelyne "Joie" Marshall is a learning solutions manager with Caveo Learning. She combines an MBA from Roosevelt University and a bachelor's degree in electronic media from Northern Illinois University to design and implement learning solutions that are innovative, engaging, and deliver maximum business value to organizations. A former executive board member with the Association for Talent Development, Chicagoland Chapter, Marshall has presented at the Chicagoland eLearning & Technology Conference, the ATD Hawkeye Conference, and the Bank Trainers Conference.