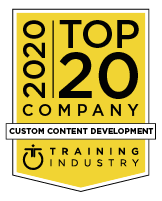 Caveo has been selected as a Training Industry Top 20 Custom Content Development company for the fourth year running!
"This year's Top 20 Custom Content Development Companies are creating unique solutions by developing customized training that aligns with an organization's business objectives," said Ken Taylor, president of Training Industry, Inc. "These engaging learning experiences are supported through the latest learning technologies, such as virtual and augmented reality, simulations, and artificial intelligence. Through their expertise in developing learning content for an array of modalities, these companies offer comprehensive solutions for a variety of learners."
Caveo first received Top 20 Content Development recognition from Training Industry in 2017. The company also was named a Training Industry Top 20 Training Outsourcing company in 2019 and again in 2020.
"We develop our solutions with the end user in mind and create customized learning experiences that place the focus squarely where it belongs—on the kind of content that improves employee performance and drives results for an organization," said CEO Jeff Carpenter. "We are honored that we continue to be recognized as a Top 20 content developer by Training Industry, but more important, we appreciate our close partnerships with our clients and the opportunity to help make their companies more successful."
Training Industry prepares the Training Industry Top 20 report on critical sectors of the corporate training marketplace to better inform professionals about the best and most innovative providers of training services and technologies. Selection to the 2020 Training Industry Top 20™ Custom Content Development Companies List was based on the following criteria:
Industry visibility, innovation and impact.
Capability of developing and delivering multiple types of content.
Depth and breadth of subject matter expertise.
Company size and growth potential.
Strength of clients and geographic reach.
About Caveo Learning
Caveo Learning is a consulting firm that provides learning strategies and custom content solutions to Fortune 500 and other leading organizations. We partner with chief learning officers and other learning leaders to help them more closely align their learning and development (L&D) organizations to deliver recurring, scalable and measurable performance gains that are tightly matched to the company's business goals and drivers. We also work with leaders in other functional areas to structure and execute learning and performance solutions aligned with major corporate initiatives.
About Training Industry, Inc.
Training Industry (https://trainingindustry.com) is the most trusted source of information on the business of learning. Our authority is built on deep ties with more than 450 expert contributors who share insights and actionable information with their peers annually. Training Industry's live events, articles, magazine, webinars, podcast, research and reports generate more than 5 million industry interactions each year, while the Top 20 Training Companies Lists help business leaders find the right training partners. For a complimentary referral, visit https://trainingindustry.com/rfp.