4 Tips for Managing Stakeholders to Move Your Learning Projects to the Next Level
Navigating learning projects with multiple stakeholders can be a complex and sometimes difficult endeavor. Tailor too much to a stakeholder's needs and you may derail the project. Overlook their needs and you may miss critical project insights or find yourself on the outside looking in when the next project comes around.

So how can you consistently perform stakeholder management in a way that maximizes learning results and overall stakeholder satisfaction?
1. Recognize that Stakeholder Relationships Are Critical to Success
Stakeholders can make or break projects. Your stakeholder's perception of your performance can define their experience, and whether right or wrong, their experience can be the defining factor in whether you are viewed as a collaborator and asset, or a liability. Behind each stakeholder is an individual with interest in the project's outcomes and processes, and each of these individuals will likely define project success through their own lens of interests, organizational environment, working styles, current pressures, personality, and more. Some may be strictly concerned about ROI, project budget, and schedule. Others will want to ensure the final eLearning or facilitator guide images properly reflect the company's brand story. Some stakeholders only want a periodic report, while others demand a much more collaborative process. It is critical that you recognize the centrality of your stakeholder relationships and plan for them.

2. Make Communication a Priority Early On
In a recent discussion regarding stakeholder management, I reached out for insight from Brooke Cole, a Caveo project manager with over ten years of experience delivering solutions for clients at Fortune 500 companies. Cole said that in her experience, the first step towards successful stakeholder management is to make it a focus early in the project. Cole stressed that project managers are the gatekeepers for establishing optimal stakeholder relationships on the project, even more than the stakeholders themselves. Additionally, she warned against de-emphasizing, or worse, skipping processes such as a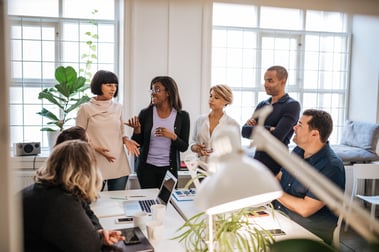 project kickoff meeting where critical communication and alignment between PM and stakeholders can happen. Cole stated that stakeholders can sometimes have limited sight regarding how project processes work across the lifecycle of a learning project. She feels project managers should "stand their ground" when it comes to holding thorough kickoff discussions because it is in the best interest of the project. It is where leadership can communicate the importance of the project, the driving force and purpose of the project, and the desired outcome. It is a way to help resources get behind the cause.

3. Listen
Keeping stakeholder relationships healthy takes time and thought and is not always easy. Just because you are not aware of an issue does not mean one does not exist. Sometimes a project's deliverables can be on track, but a project stakeholder may feel unheard. Since unaddressed issues rarely resolve themselves, it is a good practice to have a plan to proactively address them. Scheduling an "as needed" status meeting is one way of providing stakeholders a feedback forum should a problem arise. Also, periodically reviewing your stakeholder plan and agreements from kickoff can remind you of how your stakeholders define project success. Whatever periodic relationship assessment method you choose, devote yourself to honestly listening to the input you receive. Consider what is being communicated and why before trying to tackle it. When an issue is raised, probe and try to understand it better. When Cole was asked what advice she would give rookie project managers, she simply said, "Listen more and talk less." When the project reaches the close phase, this can go a long way in giving you and your stakeholders confidence that you have delivered not just the project's product but a superior stakeholder experience.

4. Think Like a Stakeholder and Challenge your Thought Process
Project plans and requirements can change long after your project has started, regardless of how often you communicate that a phase of the project is "locked." Project processes, such as those used for eLearning or instructor-led training, should encompass a "friendly" change management process that does not position stakeholder inquiries or requests as negative.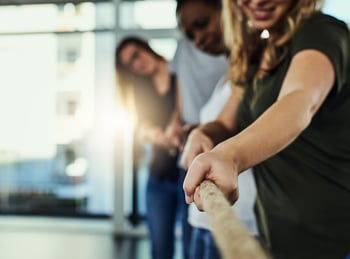 Product knowledge often increases during project execution because more information about the target solution is learned once it is in its design phase. Therefore, it is not unusual for stakeholders to develop a better sense of their needs as they begin to see progress, and then bring those needs to you. Instead of viewing potential scope creep as a disruption, thoroughly engage stakeholders on their requests to assess what they are trying to accomplish and explore options to help them be successful. If your stakeholder is informally suggesting an expansion of content when you are nearing the final phase, have a conversation about the implications in the cost and timeline of the change. Try partnering with them to determine if the new content should be its own new project or provided as a resource within the learning, or possibly provide industry-based evidence to help them see why the content may not be relevant to their goals at all. Revisit the goals of the project as part of the conversation.

Managing and adding value for stakeholders is only one part of managing a successful project. Having a deliberate plan to build rapport and maintain good communication can help to find a balance between pleasing the stakeholder and guarding the project scope. The relational investment upfront will pay dividends in overall stakeholder satisfaction.
Topics: Instructional Design