Use this Overlooked Skill to Prevent L&D Project Underperformance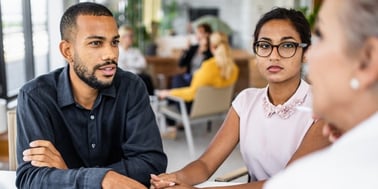 A lack of effective business consulting by all members of an L&D project team can diminish every other success on a project. Your project may deliver excellent instructional design, world-class development, and a high-performing quality plan, schedule, and budget, but if you fail to connect with your client in a way that ensures an excellent client experience from kickoff to post-launch evaluation, you may be overlooking the obvious and missing a critical opportunity to separate yourself from the crowd. Or worse, you may negatively impact your long-term client relationship, opportunities for referrals, reputation, and even revenue associated with repeat business.

So, if client experience across the lifecycle of an L&D project is a key factor in client satisfaction and is tied to critical results, why are instructional designers, developers, graphic designers, and others on the team hesitant to view business consulting, and its associated competencies, as a core requirement of their role? Read on to find the answer to this question and learn five tips to avoid this common project pitfall in order to move toward consistent high-performing L&D projects with superior client experiences.
1. Make It a Top Priority
Approach your learning project with the mindset that you are in the consulting business first. Regardless of the role you play on a learning project team, your client has come to your company for your expertise and guidance. They believe you can add value to their organization and can help them solve problems and achieve goals they cannot do alone. Therefore consulting is not just a matter of conducting SME interviews or developing project plans and storyboards, but also a matter of making the most of every interaction and task to better understand your clients and build trust that can lead to advising them more effectively.
Consulting first means doing things like going the extra mile to identify and present options to your client, when possible, rather than asking them to make decisions. Embracing the consultant aspect of your role can also put you in an optimal position for completing content reviews on time or for things like gathering additional project resource materials. Rather than becoming frustrated with subject matter experts or stakeholders when you encounter resistance to what you think is an ideal solution, keep sight of your responsibility to guide them toward a solution aligned with their project goals and their needs. You should do these things even when the client may be contributing to the issue.
2. Know What Success Looks Like, and Plan for It
Your probability for success will increase greatly if you plan your approach to advising your client. Begin in the project planning phase by defining and communicating the approach with everyone on the project team. You can form the plan as a part of your stakeholder communication plan, or you can document it less formally. Solicit team input regarding what they think a successful client experience might look like. Identify the best times in the project lifecycle for your designers or developers to interact with members of the client team. You can consider adding them to recurring project status meetings or sprints, or create other meetings at targeted project intervals, such as the end or beginning of phases.
Ask your team if they have any concerns or reservations about providing advice or sharing what they think is best, especially when their input may be contrary to what the client feels should happen. Support them and create a safe environment for them to navigate potentially difficult situations that may come up. It is important to keep in mind that your Storyline developer may still see themself as someone who receives a design document or storyboard and follows instructions to create an alpha course. Out of habit, a graphic designer may think of consulting as someone else's job.
A final aspect of planning your consulting approach should include a way to assess the client experience along the way. When is the last time you used an internal project check-up meeting to ask your team how satisfied they think the client is? Find some opportune times to do this and create an action plan for any issues.
3. Know Your Client
Be deliberate about getting to know the client. Taking the initiative to get to know their industry, organization, values, preferences, and products provides many benefits for you and for them.
Know what your client does and who they are. This will increase your interest and level of engagement on the project. Taking the time to look up their history or track their recent press releases is not hard to do nowadays. If feasible, visit their office. It will make you feel more vested in reaching the right solutions and will improve your performance on the project.
Know your client's business so you can ask more meaningful and contextually appropriate questions. This can alleviate missteps and improve project speed.
Exhibit an interest in your client's products and services. This is especially important if it is the first time you are working with their company, as they are likely still in the process of verifying that you fully understand their need and can meet it—before giving your company more work.
Meet the client where they are, even in the small things. For instance, during the COVID-19 crisis, limitations on meeting in person have caused many companies to value seeing their vendors or partners on video. If you know this to be the case, turn on your video during virtual meetings. This type of action may exhibit your interest in the client's preferences, build trust, and improve the client's experience.
4. Know Your Client's True Objectives
Even though your client might have engaged you specifically to design and develop an eLearning, or supplement their training staff, or help them revitalize an existing learning program, there is typically a higher organizational objective or goal they want to accomplish. Consulting means not just sitting back and executing assigned tasks but seeking to understand your client's true need. Sometimes a client only requests what they think is on your menu of learning services and are unaware that they can ask for more. Often, they are under schedule or budget constraints and have not fully considered the long-term impact of a project's outcome. Knowing your client's true objectives will help you focus your efforts and theirs toward the most impactful outcomes—and exhibit your value for related future projects. Avoid clinging to every step of your processes to the point that you cannot be flexible enough to see things from your client's perspective.
5. Create a Personal Learning Plan to Improve Your Consulting Skill
As a learning and development professional, you know what it takes to learn. Becoming a more effective business consultant is no different. Start by identifying which competencies (such as adaptability, leadership, judgment, etc.) are necessary. Then evaluate yourself. It may be helpful to get the input of others who have worked on learning projects with you in the past. From there, identify articles, books, MOOCs, videos, webinars, mentor/coaching opportunities, and more to focus on consulting competencies. Establish opportunities to practice, including existing projects. Do not forget to share with your project team members what you are doing. They can be a huge asset or, even better, join you in doing the same!
Topics: Instructional Design, Learning Strategy