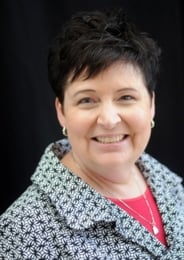 This is part of our ongoing series, Interviews with Learning Leaders.
Heidi Matthews is a Training Manager for Terracon Consultants Inc., a national professional engineering services firm headquartered in Olathe, Kansas. Heidi has more than 20 years of experience as a learning and development professional. Her background includes roles in sales, management, instructional design, eLearning development, and facilitation. As a board member of ATD Kansas City, Heidi seeks ways to connect and give back to her professional community. She is a social studies education graduate from Purdue University (possibly still holding a bit of a grudge for losing out on teaching jobs to basketball coaches). Her love of history brings her various museum adventures and a trove of books.
---
As you hire and/or work with your team, what qualities stand out to you?
I look for curiosity and an openness to try an idea. In L&D, we have the awesome privilege to learn enough to be dangerous on a wide variety of topics while working with a SME. You have to be inquisitive enough to transform the stories into a finished product that can teach others. I want my team to ask plenty of questions, propose multiple options, and ultimately provide a storyboard they are confident will meet the goal of connecting learning to performance.
What have you found inspiring about your work?
I am an input person—I have an insatiable desire to learn new things. Digging into a topic to help others make connections, learn, and feel good about their performance is awesomeness.
Are there trends you see in learning and performance that you love or find concerning?
The trend of debunking old research (or lack thereof) intrigues me. It highlights the desire to buy an assessment or use a method as a magic bullet that will erase an issue. Training continues to suffer from these magic bullet requests due to demands for immediate results in performance improvement. The fact that certain personality assessments have been debunked does not discourage clients from continuing down that path; however, improving performance takes time and is not fixed simply by a personality assessment and a two-day class.
Can you tell us a career highlight and why it was impactful to you?
Presenting at an ATDKC Conference for the first time a few years ago was a major highlight. It gave me more confidence in myself and my work. In addition, the connections, conversations, and future opportunities the experience gave me have sustained me on low days.
You are a learning professional who continues to learn. What do you do for your own development or inspiration?
YouTube, Lynda.com, MOOCs (Massive Open Online Courses), and documentaries on streaming services all make my morning routine and later treadmill time opportunities to learn. I use Texture to read magazines of interest, and my motto is "there is always time to buy another book and every room should have them available." I am also very involved in my local ATD chapter, and I go to author events, museums, or just sit and mind map reflections of what I learn around me. Conversing with others, learning from them rounds all of this out. There are opportunities to learn all around you.
What advice would you give someone new to the learning field on how to be successful?
Continuing from previous answer: learn every day, everywhere, with everyone. Connect with a professional group to network and learn from others in your local community. Engage with professionals around the world via social media like Twitter. Listen to your clients and help them discover their objectives so you can problem solve together.