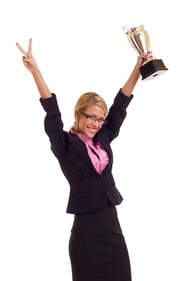 When considering the value of metrics to a learning & development organization, it's instructive to think about the statistician's dream world that is team sports.
Sports fans are famously obsessed with statistics, yet regardless of how impressive a player's individual stats might be, players are ultimately evaluated in the larger context of team success—even the best player in the league is unlikely to win a Most Valuable Player award if the team has a losing record. This evaluation of the metrics that correlate to success has given rise in recent years to "advanced stats," in which number crunchers attempt to identify the metrics that directly impact wins and losses.
In L&D, the shift toward meaningful metrics is gaining traction, albeit slowly... but the principle nonetheless still applies. If learning leaders want the credit they deserve for shaping their organizations' MVPs, they need to identify, quantify, and track the metrics that go into achieving organizational objectives and bottom-line success.
Unfortunately, L&D has not traditionally measured the things that directly impact business success, instead focusing on learning metrics that are meaningless to folks outside the learning organization—classroom hours or engagement scores, for instance. For L&D, this merely results in a race toward irrelevance. L&D needs to measure impact and value in clear and relevant ways, such as increasing revenue or reducing cost.
In every other department within a company, success is tied to these kinds of primary indicators for success. Shifting the way we think about L&D's business impact is critical to establishing a high-impact, highly relevant L&D organization. The best way for learning organizations to optimize success while proving their business value is to create a culture of alignment to critical business goals.
L&D is uniquely positioned to engage on virtually any business driver. Revenue creation, cost reduction, competency, and skill improvement can all be directly influenced by L&D. When the learning function is directly connected to and engaged with stakeholders across the business, understanding how that group directly impacts company success and how they define success, it is able to align with those metrics to guide L&D decisions for maximal business impact in highly relevant ways.
This is a game changer. Rather than measuring the number of attendees in particular training, or how satisfied attendees were with the instructor or the content and the training as a whole, forward-thinking learning leaders measure specifically their impact on revenue generation, lead generation, cost reduction, and so on. When stakeholders see that through L&D's involvement they can deliver 10% additional revenue, decrease costs by 15%, or reduce sales cycle times by 20%, L&D's value becomes clear and immediately relevant to the business as a whole.
This alignment has a powerful impact on L&D organizations internally. When everyone can clearly see how and where they are driving business value in tangible and specific ways, and they are educated on how the business is measured in other departments, learning organizations become energized, engaged, and focused. What's important to their stakeholders becomes important to them. Communication and collaboration improve dramatically, empowering everyone in L&D to begin asking the right questions about how they are helping the company win. Once this is accomplished, relevance becomes reality.
---
Adam Kirby is the former communications manager for Caveo Learning. He consults on communications related to client learning and change management initiatives, and also oversees external branding and marketing for Caveo. Kirby holds a journalism degree from Marquette University and a training & development graduate certificate from Roosevelt University. He is a member of the Association for Talent Development, Chicagoland Chapter, having served two years as vice president of marketing.