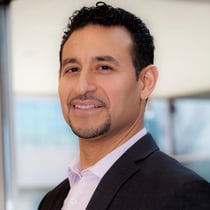 Alejandro Cornejo joined Emerson at the start of 2019 as a Learning Center Facilitator. He facilitates leadership development workshops throughout the enterprise, and he is a core member of the Charles F. Knight Learning Center team in St. Louis, Missouri. Prior to Emerson, he worked at Bayer (formerly Monsanto) as part of the Inclusion & Diversity team within the Talent Acquisition, Compliance, and Contingent workforce organization. His responsibilities included the development and facilitation of various Inclusion and Diversity initiatives. He also served as the program manager for several local external leadership development and recognition opportunities for Bayer/Monsanto leaders.
Alejandro is extremely passionate about development and helping others to maximize their true potential. He created a weekly development video series on LinkedIn and other social media outlets called Tactical Thursdays. Outside of work he volunteers with the United Way and Young Life, a faith-based youth outreach organization. He holds a bachelor's degree in Biology from Xavier University of Louisiana and master's degree in Human Resources Management from Webster University. Originally from El Salvador, he now lives in St. Louis and has two children, Saylah (11) and Victor (7).
How did you get into the learning field?
I credit my desire to get into the learning field to Brian Tracy, the iconic development master. I heard him speak at an event, and it was a transformational experience for me. His insights changed my thinking and my life. It planted the seed that I wanted to do the same thing for others. A few years after that experience, I began to work in HR and discovered opportunities first in Diversity and Inclusion, which then led me to Leadership Development.
How does Emerson Learning Center prepare a facilitator to train something new?
We have a very high standard for our workshops and facilitators. Therefore, the preparation process is aligned with that vision in that it is designed to give you the time, tools, and resources to succeed. We first begin with experiencing the workshop as a participant. This allows you to step into the shoes of people who will be taking the course, and to see it from that perspective. Then you observe the course as a non-participant. This provides you yet another perspective as you can study the facilitator and the participants as they go through the workshop. Then, adequate time is given to review the materials including the facilitator guide, participant workbook, and reference video of the Master Trainer facilitating the course. This review period ranges between 12 to 15 days of dedicated study and review. After this, you co-facilitate with one of our Master Trainers, who provides additional feedback for improvement. It is at this point that you facilitate the workshop on your own. In my case, an additional help was to have back-to-back workshops over two consecutive weeks. This was very useful in that it allowed me to make adjustments or corrections right away, thereby increasing my speed to proficiency. I had never experienced this type of preparation structure and support in my career. It has been a very empowering and engaging experience.
How do you personally prep for learning a new course?
I use a technique that I've developed and used over the past couple of years now. I use a visual learning/association technique where I use images and icons to help me remember concepts and points of the workshop. I believe this has helped me increase my speed to proficiency and to better utilize my thinking and energy in workshops.
You changed industries. What advice do you have for others for how to learn the business/products as well as the course material?
The key for me was to talk to participants. Listen to their successes, their pains, their stories, their experiences. By doing this, I have been able to ask questions that helped me to better understand the business and the culture in those sites. Reviewing the employee opinion surveys was also very helpful. At Emerson, that is a process that has been taking place for over 65 years, so the information that can be gleaned from a site's survey can teach you a lot about what's working, as well as where their challenges are. Lastly, I make it a priority to get a tour of a facility when I'm there to facilitate a workshop. Getting to see what happens on the "day to day," so to speak, gives you an appreciation for the work done, what it takes to get it done, and how concepts from the workshop can add value to that process.
What inspires you in your role?
I'm inspired by being a conduit to transformation. The skills and concepts in our workshops are truly transformational. If applied, participants can increase their effectiveness, confidence, and credibility at whatever level or stage they're in. So, if I can be a part of that process in the lives of others, I feel that I'm living out my life's purpose.
What advice would you give a new L&D professional that wanted to improve their credentials and influence with their stakeholders?
Become a sponge, ask questions, read books and blogs, and seek out masters of the craft and learn from them. Be coachable. Commit to continued improvement and compare yourself only to yourself in the past and not someone else (peer, idol, friend, etc.) in the present. Aim for progress and not perfection. Don't be afraid to try new things. Be in the moment. Become a student of human behavior— I believe that is one of the most important pieces in living an effective life.
Are there any lessons you have learned that others can benefit from?
Your mistakes can be your biggest lessons. Therefore, step into things that you may be afraid of—you'll realize that a lot of it is only in your head. Look for something good or beautiful in each day of your life. Even when you are going through the toughest times, there is something good or beautiful to be thankful for. That shift in thinking will affect the way you engage and show up in life. There is a quote from Daniel Kahneman's book Thinking Fast and Slow that has had profound impact on me and that is: "Nothing in life is as important as you think it is while you're thinking about it." This makes reference to the "focus illusion" that can deceive us into thinking that things may be worse or better than they really are. The focusing illusion can cause us to be wrong about our present state of well being, as well as about the happiness of others and our own happiness in the future.
This leads to my final point of learning to embrace reality. My mentor Robert Fritz says, "Reality is an acquired taste." Many of us are in denial about a lot of things in our life. However, when we come face to face with reality and accept it, we can then enter into an effective path to improve and create successfully.
Do you have any favorite resources for your own development to share?
Here are some books I recommend:
Crucial Conversations—Grenny, Patterson, McMillan, Switzler
Getting Things Done—David Allen
Thinking, Fast and Slow—Daniel Kahneman
The Path of Least Resistance—Robert Fritz
The Six Disciplines of Breakthrough Learning—Pollock, Jefferson, Wick
Switch—Chip and Dan Heath
Hustle—Patel, Vlaskovits, Koffler
Steal the Show—Michael Port
Creativity, Inc.—Ed Catmull and Amy Wallace
Pre-Suasion—Robert Cialdini
Never Split the Difference—Chris Voss