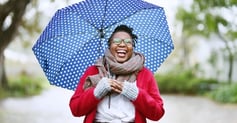 These unprecedented times have flipped learning and development on its head. Remote sessions, eLearning, virtual instructional-led training—no one saw this coming, and very few of us were prepared. How do we navigate our new normal in learning and development? Caveo's roundtable discussion will cover how we have helped companies adapt to these newfound struggles, and how we are looking to the future in preparing organizations for a new wave of training post COVID-19.
In this webinar, we discuss the benefits and risks of adopting a new digital learning environment from three distinct perspectives: instructional design, project management, and leadership.
We also help you understand how you can take specific actions to help your organization weather the storm and come out even more flexible and adaptable for the ever changing needs of your learners. Watch Caveo's team of award winning staff for this unique and informative look at the new world of training.