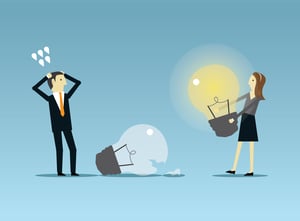 Enabling behavior change is the purpose of most learning solutions, but creating good training is not enough. Identifying the problem and determining the solution (perhaps eLearning?) is a great start, but how do learning leaders with a "change management mentality" approach the curriculum development process? We will lead you through the process, from analysis and planning through implementation and changing behaviors, helping you understand this necessary partnership between change management and your learning organization.
---
You'll come away from the webinar with:
Recommendations to help keep the project on track, keep the deliverables focused, and manage to the defined project scope

Tips for increasing the odds of adoption with good change management support

Clear understanding of the process between change management and others in your learning

organization
Who Should Watch
Chief Learning Officers (CLOs), VPs of Training, Training Directors and Managers, Human Resources VPs and Directors, CEOs, and COOs
About the Presenters
Laura Riskus, Director of Learning Strategy, leads strategic initiatives for Caveo's clients, including organizational restructures, content management strategies, and technical implementations.
Laura has worked with Fortune 500 clients, applying her "jack of all trades" knowledge. Her 20 years of experience spans from ERP implementations through leading enterprise-wide change management initiatives. Her degree in Public Relations combined with her Prosci and APMG certification in Change Management influence her approach to strategy.
If you've attended Caveo webinars in the past few years, her voice will be familiar to you, as she has been our webinar host, and has also co-presented on our webinars. Laura also regularly speaks at events on Change Management and other related topics.
Renie McClay, CPLP, Project Manager, puts her passion for learning, global talent development, innovation, and giving people tools for success to good use in her project management role at Caveo. Before joining Caveo in 2014, Renie held a variety of learning leader roles for companies including Kraft, Gerber, and Pactiv Corp. She has a master's in global talent development from DePaul University and is a Certified Professional in Learning & Performance (CPLP). An adjunct professor at Concordia University and Roosevelt University, she is a renowned expert on global training and sales training. McClay has authored or contributed to 10 books, including The Essential Guide to Training Global Audiences and Fortify Your Sales Force.
You may recognize Renie's name, as she frequently contributes to Caveo's blog and other training publications, and has multiple speaking engagements each year at regional ATD events and other conferences.