Discover why project-based consulting often provides better value than staff augmentation.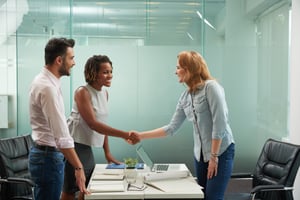 Staff augmentation (or staff aug) is a common way to increase bandwidth to support short-term or one-off needs, where internal teams might not have the availability or expertise. Often, L&D organizations simply need more instructional designers, developers, or trainers to meet near-term course development and deployment workloads.
The typical approach is to contact a few staffing firms, review the stack of resumes they email over, negotiate the lowest possible hourly rates, and roll a few more chairs into the room.
However, this strategy rarely takes the true business case into consideration. In fact, the project-based model actually generates greater business value in many cases.
In this white paper, we compare project-based consulting and staff aug in terms of:
Timelines and budget management
Quality control
Tools, templates, and best practices
Project management methodology
Specialized resources and capabilities
Fill out the form to get the white paper today.