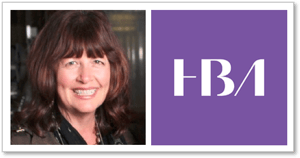 Caveo is proud to announce that Director of Client Development Sheri Winter has been named Director-At-Large for Membership and Volunteer Engagement of the San Diego chapter of the Healthcare Businesswomen's Association (HBA)!
Sheri joins the HBA San Diego board after a recent move from the East Coast, where she was an HBA member and volunteer.
The HBA, formed in 1977, is a global nonprofit organization comprised of individuals and organizations from across the healthcare industry committed to:
achieving gender parity in leadership positions
facilitating career and business connections
providing effective practices that enable organizations to realize the full potential of their female talent
The HBA accomplishes its mission through strong business networks, education, research, advocacy and recognition for individuals and companies.
"We are thrilled to have Sheri join our chapter board," said Michelle Youngers, HBA San Diego president. "Her extensive experience with the HBA back east combined with her expertise in communications and learning make her an ideal fit for the role of director at large for membership and volunteer engagement."
San Diego is looking for passionate and committed volunteers for the membership, programs, and marketing and communications committees. If interested, contact Sheri to learn more.